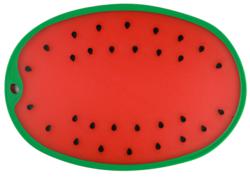 Watermelon leads all brightly colored fruits in lycopene content, with up to 20 mg in a 2-cup serving.
Coppell, TX (PRWEB) April 18, 2012
Watermelon, as its name implies, is mainly water – approximately 92% water. But the other 8% is absolutely amazing in terms of nutritional benefits.
According to the National Watermelon Promotion Board, watermelon is the "Lycopene Leader" among all fruits and vegetables, containing up to 20 mg in a 2-cup serving. That's 40% more than tomatoes!
Lycopene is a carotenoid that occurs naturally in colorful fruits and demonstrates powerful antioxidant benefits, which can include reduced risk for cardiovascular disease and many forms of cancer. Currently there is no recommended daily allowance for lycopene, but a diet rich with watermelon and other brightly colored fruits and vegetables is strongly encouraged by ChooseMyPlate.gov.
Watermelon also contains:

Vitamins A and C, as well as potassium.
Minimal calories, naturally. Only 95 calories in two filling cups.
Virtually no fat, cholesterol or sodium, so you can eat guilt-free!
Watermelon is racking up health points on the RealAge website, with these benefits pointed out by Dr. Mike Roizen and Dr. Mehmet Oz:

Watermelon juice has shown, in early studies, that it can clean your arteries by reducing body fat and lowering LDL cholesterol levels.
Watermelon is one of the few food sources of citrulline, a powerhouse protein that can lower systolic blood pressure through the production of nitric oxide. Citrulline also helps with wound healing, cell division and blood circulation.
Dexas creates the watermelon experience with the new Watermelon Cutting & Serving Board and the new Melon Slicer. Dexas was the first to introduce fruit and vegetable-shaped, translucent cutting boards, adding a creative touch to healthier eating at home.
Dexas Watermelon Cutting & Serving Board – a completely unique food prep experience, this colorful cutting board has a non-slip, raised green edge that performs two functions. The edge holds the cutting board firmly and safely in place on the counter. It also acts as a raised barrier, keeping juice and seeds on the board. The propylene surface is safe for all foods, although it is hard to resist the urge for fresh watermelon when in use!

Materials: propylene cutting surface, overmolded, non-slip TPE edge, BPA-free
Size: 17.5 in x 12 in
Other shapes and colors: eggplant, lemon, tomato, green apple, orange
Dishwasher safe, won't warp, crack or peel
Dexas Melon Slicer – this 11-inch serrated knife easily slices through watermelon, cantaloupe and honeydew melons. The red blade is made of high carbon stainless steel, while the handle is made of soft-grip TPE. The two-tone, ergonomic design of the handle has embossed pressure points for the fingers and thumb, providing precise control. A protective sheath protects both the hands and the knife during storage.

Materials: high carbon stainless steel, TPE soft-grip handle, BPA-free
Size: blade length, 11 in, overall length 17.6 in
Founded in 1969, Dexas International is proud to be the largest manufacturer of cutting boards in the USA. Dexas designs, manufactures and markets kitchen tools, gadgets and cutting board products, which stimulate culinary creativity and healthier eating at home. The line is available in stores and online at Bed Bath & Beyond, Crate & Barrel, The Container Store, Williams-Sonoma, Macy's, Dillards, Sur la Table and other gourmet specialty stores. Selections of Dexas products are also widely available at department and specialty stores.
For more information, log on to http://www.dexas.com for innovative products for the kitchen, office and even for pets. Follow Dexas on Facebook and check out ideas for healthy eating and kitchen creativity on Pinterest.
###
Reference: Watermelon.org, RealAge.com, MayoClinic.com, Livestrong.com, Fruitsandveggiesmatter.gov, Dexas.com
Media Advisory: For more information on Dexas or product samples, contact Jeff Logan, Director of Marketing, 469-635-8109 or jlogan(at)dexas.com