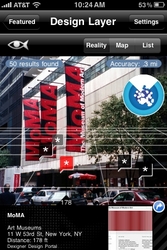 New York, NY (PRWEB) October 21, 2009
Dexigner released the new Design Layer for Layar. Dexigner Design Layer is an augmented reality layer which is loaded in the popular Layar application, currently available worldwide for iPhone and Android.
Dexigner Design Layer is a digital layer of information on top of a real-life view of the world around you, as seen through your phone's camera. The layer displays a comprehensive list of all the design related places - designers, museums, organizations, studies etc., from Dexigner Agenda, Design Directory and Database.
You can adjust or filter the results by clicking on the "Settings" button in the top right corner. You can narrow your results by type and range, or search by keywords. By clicking on the little arrow you can get detailed information and directions, or call directly from your phone.
How to get the Design Layer?
You can install the free Layar application on your iPhone 3GS or Android phone. Once you have installed Layar, press "Search" and look for "dexigner".
About Dexigner
Delivering design related news, events, competitions, and resources, Dexigner Design Portal is the leading online portal for designers. Dexigner also provides a design directory, database, agenda and weekly newsletter.
Design Directory
The Design Directory is a hierarchically arranged directory of design resources, including designers, design companies, design studios, organizations, museums, portfolios, consultancies and many more.
Design Database
Design Database is a comprehensive list of designers, design studios and design firms including photos, fields, location and contact information.
Dexigner Newsletter
Monthly roundup of design news, events and competitions from the #1 portal for design related information. Already more than 40.000 subscribers.
Design Agenda
Design Agenda, the most complete list of design events, keeps you up-to-date on current and upcoming design competitions, exhibitions and conferences.
###