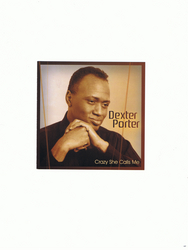 . 'Finally, Barbara Walters said of Dexter Porter,
Weehawken, NJ (PRWEB) October 29, 2007
FOR YOUR CONSIDERATION:
The National Academy of Recording Arts & Sciences Committee has placed Dexter Porter on the Official Ballot for the 2008 Grammy Awards
in the following category:
Category 14 - Best Traditional Pop Vocal Album
Dexter Porter - Crazy She Calls Me
Award goes to Artist: Dexter Porter
Ballot Entry # 024
Dexter Porter is a jazz vocalist originally from Georgia. Dexter with the help of friends and benefactors produced and released the CD,Crazy She Calls Me. Porter recorded, Crazy She Calls Me, after years of performing for such people as Barbara Walters, Regis Philbin, Mayor Mike Bloomberg, and Starr Jones. Here some things that people in the press are saying about Dexter Porter and his CD, Crazy She Calls Me: John Gilbert of "ejazznews" said, "Dexter Porter does a fine job with some excellent tunes and three solid trios. 5 stars".
Tom Schaefer of "jazzreview" said, "He created the CD with three excellent trios (all featuring piano, bass, and drums) which might have made for an uneven effort, but in this CD, it allowed him to demonstrate his musical dexterity (sorry for the pun) from a swinging version of Bobby Troup"s "Route 66" to a bosa nova-like version of Gershwin's "Someone To Watch Over Me"."
Edward Blanco of "ejazznews" said, "The music is just terrific and immediately evident right from the beginning cut"Have You Met Miss Jones". 'Finally, Barbara Walters said of Dexter Porter, "Dexter Porter has sung in my home, both ballads and jazz, to the great enjoyment of my guests. I think he is talented and charming."
###