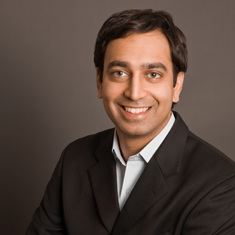 Houston, TX (PRWEB) September 07, 2011
DFJ Mercury, a seed-stage venture capital firm investing in information technology and science-based start-up opportunities, today announced the promotion of Aziz Gilani to Director. This promotion follows Gilani's graduation from Class 14 of the Kaufmann Fellows Program. Gilani will continue to focus on identifying, investing in and advising Internet-based entrepreneurs and innovation originating in the U.S. Midcontinent.
"Aziz' promotion is hard earned and well deserved, as he has continuously proven his value to our firm, our limited partners, and our portfolio companies," said Blair Garrou, Managing Director of DFJ Mercury. "His passion for start-ups, his commitment to entrepreneurial founders, and his insight into the Internet and digital media industries have made him a tremendous asset to DFJ Mercury."
"Aziz' advice and guidance has been instrumental in helping us achieve market leadership and credibility," said Michael Agustin, co-founder and Chief Product Officer of GameSalad, the leading development platform for iOS and HTML5 games. "When Aziz understands your company, he throws everything into it and makes it as personal of an endeavor as your own."
"Aziz, in a very short period of time, has become a trusted go-to guy for his colleagues in the Society of Kauffman Fellows," said Phil Wickham, Chief Executive Officer of the Center for Venture Education, the Institute that oversees the Kauffman Fellows Program. "His combination of passion, authenticity, reliability, and guts are the fundamental building blocks of a great venture investor. Entrepreneurs will fight to have him on their boards."
Gilani currently works with DFJ Mercury portfolio companies BlackLocus, GameSalad, Graphicly, Infochimps, Koupon Media, and ShareThis. Before joining DFJ Mercury, Gilani
was a Senior Engagement Leader with Infosys Consulting where he led the Enterprise Asset Management Practice. Prior to Infosys Consulting, Gilani was a Director at ABB Performance Services where he held a variety of roles including Manager of Global Operations Analytics, Global Quality Director, and Global CMMS Director. Prior to ABB, Gilani was a Senior Consultant at Cap Gemini Ernst & Young working with ERP implementations in the Energy, Chemicals and Utilities Practice.
Gilani received his BBA from the University of Texas at Austin McCombs School of Business where he was a TILF Scholar, and his MBA from Northwestern University's Kellogg School of Management where he was an FC Austin Scholar, Kellogg Board Fellow, and Chairman of the Kellogg Private Equity and Venture Capital Conference. Gilani is a Class 14 graduate of the Kauffman Fellows Program.
About DFJ Mercury
DFJ Mercury is a seed and startup venture capital firm. Headquartered in Houston, Texas, DFJ Mercury invests in compelling and novel information technology and science-based startup opportunities. DFJ Mercury seeks to partner with extraordinary entrepreneurs to build globally competitive businesses, focusing on technology innovation in the U.S. Midcontinent. With over $100 million under management, DFJ Mercury has a particular focus on university spin-outs and incubation, often investing prior to a business plan or management team being formed. Since inception in 2005, DFJ Mercury has been one of the most active seed funds in the Midcontinent. DFJ Mercury is a partner in the DFJ Global Network of venture funds. For more information, please visit http://www.dfjmercury.com.
About the Kaufmann Fellows Program
Founded in 1994, the Kauffman Fellows Program is an educational program designed to identify, develop and network future leaders of the venture capital industry globally. In July 2002, the Program was spun out from the Kauffman Foundation and placed under the aegis of the newly created Center for Venture Education. The Center, a non-profit, post-graduate educational institute, has expanded the program nationally and internationally to fulfill its mission of identifying, developing and networking the future leaders of the venture capital industry globally. During the first ten years of the program alone, Kauffman Fellows led investments of more than $3.6 billion in 417 companies, sparking $10.8 billion in annual revenues and the creation of 42,000 jobs, and since then those numbers have continued to grow exponentially. For more information, please visit http://www.kauffmanfellows.org.
###