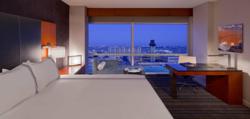 With this renovation completed, we are even better equipped to give every guest a signature experience with the best of comfort, convenience and technology.
Dallas, TX (PRWEB) October 18, 2011
Grand Hyatt DFW, one of the world's top hotels for business and international leisure travelers, today announced the official completion of its recent $13 million renovation. The enhancements upgrade the 298-room DFW airport hotel with fresh finishes and highly-stylized art as well as technological updates that focus on energy conservation while creating a sophisticated welcome scene upon entering the room.
"Grand Hyatt DFW already set the standard for luxury business and international travel," said General Manager Lance Marrin. "With this renovation completed, we are even better equipped to give every guest a signature experience with the best of comfort, convenience and technology."
Dallas design firm Seifert Murphy brought a fresh artistic spin to the hotel's décor with 1,300 pieces of new art by Dallas photographer, Richard Bettinger. Bettinger created and trademarked his Decompressionism™ style, which abstractly depicts the reflection of light and color without any post-production manipulation.
Technology updates were completed in partnership with the Dallas branch of INNCOM, an advanced hardware and software solution provider for energy management, integrated room automation, common area controls and systems monitoring. Updates include full control of sheers and shades, temperature and lighting through a bedside touch-screen control panel and smart switches in every room. If a room is unoccupied for 30 minutes, the system is designed to turn off all the lights, air conditioning and lower the window shades to conserve energy. When the guest re-enters, the system automatically returns the room to the last setting.
Enhancements to the Dallas airport hotel's dining options also include a redesign of the 24-hour coffee café, Moka, which serves premium illy® Café beverages, breakfast and lunch and late-night meals including pastries, quiches, hearty sandwiches and gourmet desserts. Gluten-free options are also available. Moka recently qualified for the illy® Café Artisti del Gusto designation, meaning guests can look forward to enjoying an authentic Italian/European coffee experience featuring the illy® brand.
In M Lounge, the DFW airport hotel's quintessential martini and sushi bar, guests enjoy the addition of a dedicated sushi bar serving freshly prepared sushi, sashimi, signature rolls, sake and imported brews.
"We're proud of the quality of service and surroundings at our hotel," said Marrin. "Even though we set a high standard, there is always room for improvement. That attitude is part of what makes us the best at what we do."
About Grand Hyatt DFW
Opened July 2005 as the only Grand Hyatt located at an airport and the first Grand Hyatt to be built in Texas, the 12-story, 303,675-square-foot hotel offers an unparalleled experience in hospitality for business and leisure travels. Located inside Terminal D at DFW International Airport, Grand Hyatt DFW features 298 guest rooms, with 39 suites luxuriously designed with a residential ambiance, providing a personal sanctuary to meet the needs of today's discerning business traveler. The hotel provides ballroom/banquet/meeting space, a restaurant, lounge, coffee bar, rooftop heated saline pool and fully-equipped fitness center with spa treatment rooms. All guest rooms offer a full range of amenities, such as Hyatt's signature Grand Beds, 32-inch flat panel televisions with digital video-on-demand and premium cable service, over-sized bathrooms featuring freestanding showers and soaking tubs, spacious granite-top work desks, high-speed wired and wireless Internet access and two in-room telephones.
For more information about Grand Hyatt DFW, or to make a reservation, visit http://www.GrandHyattDFW.com.
# # #