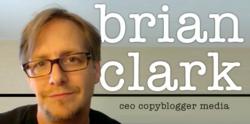 Delivering compelling free content is the smartest strategy for growing an authoritative website and your business
Dallas, Tx (Vocus/PRWEB) February 10, 2011
On February 16 at 6:30PM at the Renaissance Hotel In Richardson, Brian Clark of Copyblogger will be presenting at the monthly meeting of DFW Search Marketing Association.
Creating compelling content is the New Advertising and Brian is considered one of the top content marketing experts in the world; ranked #1 in the AdAge Power 150 list of marketing blogs. Brian will be discussing the role of content marketing with a specific focus on SEO copywriting. This presentation is a must-attend event for copywriters, SEO professionals and online marketers involved in search and social media efforts.
Registration for the event can be made at http://dfwsem.memberlodge.org. The cost is free to members and $35 for non-members. Due to the expected turn-out, pre-registration is required for all attendees.
Brian Clark started Copyblogger.com in 2006 and quickly gained a world-wide following for his in-depth authoritative approach to copywriting and online marketing. Today Brian is a respected online marketer; frequently keynoting industry events like PubCon, BlogWorld and Affiliate Summit and followed by more than 68,000 people on Twitter, over 130,000 RSS readers and 500,000 visitors to the site per month.
As the CEO of Copyblogger Media, Brian is directly responsible for the growth and direction of numerous online applications and media assets including StudioPress, Scribe SEO, Teaching Sells, Third Tribe and the soon to be announced Premise application.
Brian's mission is to empower empower online writers and content producers to command attention, create engagement, and influence people as powerful players in the new media revolution.
Please join DFWSEM on February 16 at 6:30PM at the Renaissance Hotel In Richardson to here from one of the true luminaries in online marketing.
About the DFW Search Engine Marketing Association (DFWSEM):
Initially founded in 2003, DFWSEM is the oldest and longest running local search engine marketing group/meetup in the country.
The Dallas/Fort Worth Search Engine Marketing Organization (DFWSEM) is dedicated to education and promotion of the Dallas/Fort Worth search engine marketing industry, conversing various topics related to search engine optimization (SEO) and pay-per-click search (PPC), as well as other emerging media. The group meets monthly at the Renaissance Hotel in Richardson, Texas, and is open to anyone interested in search engine marketing, including in-house marketers, independent consultants, and agencies.
PROMOTING SEARCH ENGINE MARKETING IN THE D/FW AREA
The Dallas/Fort Worth Search Engine Marketing Association's goal is to promote search engine marketing and increased ROI for companies and their websites through best practices. We accomplish this through networking, education, and promotion of search engine marketing in the North Texas area. Our members are highly skilled in the areas of copywriting, web hosting, web design, web analytics, internet application development, affiliate program development and strategy, social media, search engine optimization, PPC campaigns, as well as emerging media.
The Dallas / Fort Worth Search Engine Marketing Association is dedicated to the following principles:
■Educating North Texas businesses and marketing managers about the value of search engine marketing
■Promoting the search engine marketing industry in North Texas and surrounding regions
■Recognizing the value North Texas search engine marketers provide to businesses, advertisers, and search engines.
Sponsoring DFWSEM:
DFWSEM Association members cumulatively represent over $100,000,000 in annual search engine ad spend, and sponsorship is a great way to get your message in front of this group of decision makers and key influencers. To find out how to sponsor a monthly meeting or other opportunity, contact DFWSEM at info(at)dfwsem(dot)org.
DFWSEM Speakers Bureau
Many members of DFWSEM are actively speaking at various interactive marketing conferences, including SMX, Search Engine Strategies, ad:tech, PubCon, and WebmasterWorld, among many others. If you are looking for someone to speak about search engine marketing related topics, or would like to interview a member, feel free to contact the group for more information.
The DFWSEM Association welcomes requests to speak to the group at info(at)dfwsem(dot)org.

# # #