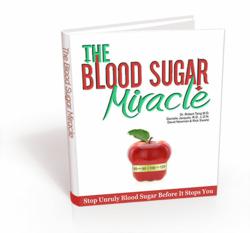 Foods now dominating restaurant menus and supermarket shelves worldwide can be credited as the source of this global epidemic
Las Vegas, Nevada (PRWEB) December 19, 2012
Every time the Yuletide rolls around many find excuses to overdo it with their eating, drinking and general merriment. The abundance of cookies, candies, cakes, pies, and other sweets, combined with excessive alcohol consumption are hallmarks of the holiday season, which lead to dangerous spikes in blood sugar.
Dietician, Danielle Jacques says, "Now more than ever, Americans need to watch how much they eat, as well as what they eat and drink during the holidays to minimize blood sugar spikes and their effects on not only the waistline, but overall health too."
According to E.R. Physician, Dr. Robert Tang, "There is considerable evidence that spiking blood sugar during the holiday season presents a major health risk that can lead to complications for those with metabolic disorders including Type 2 diabetes and obesity, often referred to [diabesity]."
Though World Diabetes Day passed some weeks ago, the overwhelming demand for their new book has compelled publisher GLS Sciences, the company behind GlucALite®, to extend the giveaway of this groundbreaking guide, The Blood Sugar Miracle. The authors: Robert Tang, MD, Danielle Jacques RD, LDN, retired chef and recovering diabetic, Rick Swartz, and GLS Chief Exec and lead research analyst, David Newman have penned a book that tackles the subject of blood sugar like never before. The e-book version can be downloaded free from their website (http://www.bloodsugarmiracle.com), until December 31st at midnight, Pacific Time. Since everyday is "Diabetes Day" at GLS, their campaign to get this book into the hands of everybody who needs it shall continue. That means the offer will remain open to the 700-million living with challenged metabolisms or high blood sugar and those who care for them.
Dr. Tang believes The Blood Sugar Miracle offers the afflicted a practical common sense approach to managing problem blood sugar with their easy to understand 18-day action plan contained within The Blood Sugar Miracle. It amounts to a simple solution to a complex problem.
"The Standard American Diet (a.k.a. S.A.D.), consists of too many processed foods as core ingredients for the fast-food recipes that have become so popular during the past half century. These foods that now dominate restaurant menus and supermarket shelves worldwide can be credited as the source of this global epidemic" according to former chef Rick Swartz.
Newman added, "Research studies from major international Universities indicate that continuously feeding the body with food deplete of basic nutrients results in poor health. In the case of disorders related to the metabolism, it's really important to understand what NOT to put in the body; what causes the problems, and what should be eaten to regain control of proper metabolic function. In short, what to eat and what not to eat to maintain healthy blood glucose as part of a healthy metabolism."
The authors unanimously agree: "Blood sugar, as a health marker, is viewed as cholesterol was some 25 years ago; while today the blood sugar movement is here and rising in prominence. The importance of maintaining healthy blood sugar is evidenced by the increased risk for heart disease, cancer, kidney disease, blindness, and amputation that are associated with high blood sugar."
"Based on proven science this book delivers a practical step-by-step approach to combat high blood sugar without sacrificing the human desire for delicious food. The Blood Sugar Miracle distills more than 20-years of collective science into an easy-to-read and understand guide that explains the exact diet and exercise components that go into maintaining healthy blood sugar levels for life."
According to GLS Scientists The Blood Sugar Miracle is a "must-have" addition to anyone's holiday reading list, and why they believe it is so important get while it's still free. Both the publisher and authors urge all who have or know someone with blood sugar issues to give themselves or their loved one the gift that lasts a lifetime. Start living the holiday miracle with a free copy of The Blood Sugar Miracle!
GLS Sciences will release The Blood Sugar Miracle digitally for Kindle, Nook, and iPad/iPhone in 2013; as well as a printed version in bookstores across the US and Canada shortly thereafter.
For more information please visit http://www.bloodsugarmiracle.com