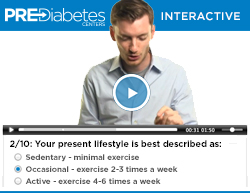 Austin, TX (PRWEB) June 06, 2013
PreDiabetes Centers, the nation's authority on prediabetes, is excited to announce the debut of its free Interactive Diabetes Risk Survey, a personalized assessment of diabetes risk conducted entirely through online video.
The risk survey features 10 questions delivered by a friendly, personable narrator. The questions address a person's health, family history, symptoms and lifestyle habits. The viewer simply clicks on the most appropriate answer when they are ready to respond, allowing viewers to carefully select answers at their own pace.
After answering the questions, the viewer is provided a score that predicts the likelihood of him or her developing type 2 diabetes, a chronic disease that will likely affect one in three Americans by 2050, according to the Centers for Disease Control and Prevention.
The Interactive Diabetes Risk Survey is a fast and efficient way for people to learn their risk for diabetes. It also offers viewers the option of booking a complimentary biomarker blood draw at a local center so they can get a more comprehensive understanding of their diabetes risk.
The Company hopes that online viewers will take a few minutes to answer questions about themselves in the Interactive Diabetes Risk Survey in order to learn more about their individual risk for type 2 diabetes. Learning the possible risk for diabetes and getting screened early on is the only way to prevent the development of diabetes before it progresses to dangerous levels.
Participants also have the option of using a text-only version of the Diabetes Risk Survey, available on the website.
PreDiabetes Centers is a rapidly growing company and has treatment centers around the nation. The Company specializes in the prevention and treatment of diabetes. Treatment at the Center is customized for each client and is based on physician-directed care and lifestyle intervention. The company offers free biomarker blood testing that can detect prediabetes, and also continuing biomarker tests throughout the personalized program to ensure that metabolic processes in the body related to prediabetes are being reversed.
Prediabetes is the precursor to type 2 diabetes, a serious, deadly disease that affects how the body uses blood sugar. Prediabetes can raise a person's risk for many serious complications, including cardiovascular disease, stroke, kidney damage and eye problems. More than 79 million Americans have prediabetes, and most are unaware of their condition. About 11% of people with prediabetes go on to develop type 2 diabetes within just three years.