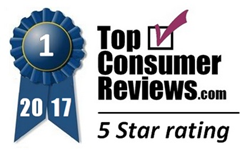 We gladly give Insulate Plus our top ranking among Diabetes Supplements in 2017.
Overland Park, KS (PRWEB) September 22, 2017
TopConsumerReviews.com recently awarded their highest five-star rating to Insulate Plus, a nutritional supplement produced by Native Remedies that helps promote pancreatic health and regulate blood sugar levels.
Preventing diabetes is a top priority for many individuals. However, some prescription-based approaches can have negative side effects, and with the changes in today's healthcare industry, not everyone can afford to address diabetes using traditional medicine. For these reasons, an increasing number of people are turning to natural diabetes supplements to combat their symptoms or to prevent diabetes from occurring in the first place.
"Diabetes is an issue that affects nearly 10% of people in America alone, and Native Remedies' Insulate Plus offers an effective approach to help prevent it and fight its symptoms," explained Brian Dolezal, of TopConsumerReviews.com, LLC. "This 100% natural herbal supplement uses ingredients like Bilberry, Chromium, and Goat's Rue to balance glucose in the bloodstream, with noticeable results seen in as few as 3-6 weeks. Better yet, Native Remedies' backs all of its products with a stellar one-year return policy, allowing customers to obtain a full refund if not completely satisfied. We gladly give Insulate Plus our top ranking among Diabetes Supplements in 2017."
To find out more about Insulate Plus and other supplements that help prevent and fight the symptoms of diabetes, including reviews and comparison rankings, please visit the Diabetes Supplements category of TopConsumerReviews.com at http://www.topconsumerreviews.com/diabetes-supplements/.
About Native Remedies
Native Remedies was founded by Adrienne and George Luntz in response to the increasing use of psychiatric drugs, particularly with children. After building a team of expert practitioners of homeopathy and naturopathy, they developed a line of Full Spectrum products that use whole herbs to combat conditions ranging from ADHD to memory loss. More than 500,000 satisfied customers later, Native Remedies maintains a commitment to wild crafted herbs whenever possible. The company is headquartered in Florida and is a subsidiary of Silver Star Brands, Inc.
About TopConsumerReviews.com
TopConsumerReviews.com, LLC is a leading provider of independent reviews and rankings of hundreds of consumer products and services. From Diabetes Supplements to Prepared Meals and Anti Aging Creams, TopConsumerReviews.com delivers in-depth product evaluations in order to make purchasing decisions easier.