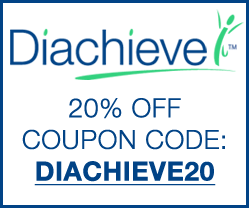 Pompano Beach, FL (PRWEB) July 27, 2012
Diachieve has launched a One-Week Only sale offering customers a 20% discount off of three of their best-selling nutritional supplements. For one week, customers can save an additional 20% off of the regular low price on Diachieve's Omega-3, Sugar Defense, and 5-Gram fast acting Glucose Tabs. The sale begins today and runs through 08/05/2012.
Diachieve Omega-3 is endorsed and approved for use by Dr. Norbert Moskovits, M.D., FACC, FCCP: Director, Heart Failure Program; Associate Director Of Clinical Cardiology, Maimonides Medical Center. Dr. Moskovits states, "I recommend Diachieve Omega-3 because it contains optimal amounts of EPA and DHA. It can help prevent heart disease and other complications for those with diabetes and for those without diabetes and is also beneficial in people who already suffer from heart disease."
Omega-3 dietary supplements have been clinically proven to be beneficial in areas such as: lowering incidence of heart disease, reducing the risk of stroke, reducing the risk of developing Type 1 and Type 2 diabetes, lowering triglycerides and LDL cholesterol levels, reducing systolic and diastolic blood pressure levels, lowering of incidence of kidney disease, and halting the progression of eye disease.
Diachieve Sugar Defense is endorsed and approved for use by Dr. Keith Berkowitz, M.D., founder and medical director of practice specializing in obesity, sugar disorders, and other metabolic conditions. Dr. Berkowitz says, "Diachieve Sugar Defense is a comprehensive nutritional supplement that addresses the current blood sugar epidemic in a unique way. I recommend this product for individuals who have elevated blood sugars and/or have difficulty maintaining a healthy blood sugar level."
Diachieve Sugar Defense was created with the most clinically proven natural ingredients available to help reduce sugar spikes and keep your blood sugar levels in the normal range. With added ingredients that can actually help reduce your cravings for sweets, you are sure to maintain healthy cholesterol levels and protect your heart.
Diachieve Glucose Tabs are endorsed and approved for use by Roberta Kleinman, CDE. Kleinman states, "Diachieve Glucose Tabs offer 5 grams of fast-acting glucose per tab, making them an excellent option for anyone having an episode of low blood sugar.
Diachieve Glucose Tabs offer 5 grams of fast-acting glucose per tab. The tabs are available in 60-count jars and come in either Cherry or Orange flavor. Each jar of 60 also comes with a free travel tube that can hold 10 tabs which makes keeping them always available even more convenient.
Diachieve brand products are manufactured and packaged in a facility that meets the standards set by Good Manufacturing Practices (GMP).
Diachieve has teamed up with American Diabetes Wholesale to be the exclusive distributor for their full product line, including their new Diachieve Omega-3 supplement.
To take advantage of this promotion, visit American Diabetes Wholesale and use promo code DIACHIEVE20 during the checkout process.
About Diachieve:
The Diachieve™ brand was created to give people with diabetes affordable options while maintaining the highest quality and safety. Diachieve products are created under the guidance of an industry-leading professional health advisory board and backed by a money-back guarantee. Diachieve diabetes products provide superior value to make managing diabetes more affordable. By making products that are affordably priced, people with diabetes can follow a healthy diabetes management routine. Visit http://www.diachieve.com for more information on Diachieve Products.
About American Diabetes Wholesale:
American Diabetes Wholesale (ADW) is a diabetic supply mail order company that is dedicated to keeping diabetes management affordable. ADW is focused on helping customers effectively manage their disease by providing one of the largest selections of diabetes-related products, fast service, significant discounts and support for customers who have health insurance, as well as the uninsured. ADW takes a leading role in diabetic education through Destination Diabetes, an informational component of the ADW website featuring tips and advice from diabetes and nutrition experts, diabetic recipes and more. ADW is involved in and supports the diabetes community and organizations that further diabetes education and research.