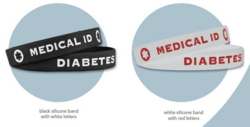 Houston, TX (PRWEB) November 09, 2012
Since November 1st, to help raise awareness and show support to the diabetes community during Diabetes Awareness Month, American Medical ID started giving away diabetes medical IDs to anyone in need. This absolutely free program has been a huge success and has delivered thousands of diabetes medical IDs to people with type 1 or type 2 diabetes. Due to the early success of this program, American Medical ID has created a new goal: Ten thousand Diabetes Medical IDs given away on November 14, World Diabetes Day!
Why should a person with diabetes wear a diabetes medical ID?
"Medical alert bracelets can be extremely important for people with diabetes. Should you have a low blood glucose reaction and suddenly become confused or unresponsive, the bracelet allows immediate identification of the problem to both bystanders and paramedics. The sooner the low blood glucose reactions can be identified, the sooner they can be treated." - Joslin Diabetes Center
When should a person with diabetes wear a diabetes medical ID?
"You should have a medical ID with you at all times. Emergency medical personnel are trained to look for a medical ID."- American Diabetes Association
HOW THE FREE DIABETES MEDICAL ID PROGRAM WORKS:

Visit the American Medical ID Facebook Page
Locate the Free Diabetes Medical ID Application and Provide Your Information
A Free Diabetes Medical ID Will be Sent to You
It's that simple! There are no costs involved (no shipping, no handling, nothing). Two styles of diabetes medical ID bracelets, in two sizes, will be available absolutely free during the month of November.
"Leading medical institutions and diabetes related non-profits recommend the use of medical IDs for people with diabetes. It is our pleasure to offer this program as a way to help provide safety and peace of mind to everyone in the diabetes community. Wearing your diabetes medical ID is also a great way to raise awareness in the community," said Rick Russell, President and CEO of American Medical ID.
Since 1994, Houston-based, employee owned and operated, American Medical ID has created high quality, customized medical identification jewelry to meet your everyday lifestyle. The medical IDs are available with various styles of bracelets, necklaces, and sports bands, in gold, gold-filled, sterling silver, stainless steel, titanium, silicone, and nylon. Each ID is custom fitted and personalized with complimentary engraving. Candidates for a medical ID include anyone living with chronic or rare medical conditions such as diabetes, asthma, heart conditions, stroke risk or memory impairment; persons with allergies such as food, drug or insect; and those taking multiple medications or blood thinners. For more information about American Medical ID, visit http://www.IdentifyYourself.com or call (713)695-0284.
# # #
If you would like more information about this topic, or to schedule an interview, please contact Justin Noland at (713)600-6713 or email JNoland(at)IdentifyYourself.com