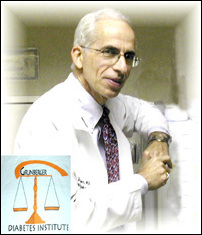 The Benefits of Early Intervention in Obese Diabetic Patients with FBCx™ - A New Dietary Fiber
Windsor, ON (PRWEB) August 30, 2006
ArtJen Complexus is pleased to announce that the results of the first clinical trial of the fat fighter FBCx have been accepted for publication following favorable critical evaluation in the peer reviewed scientific medical journal Diabetes/Metabolism Research and Reviews.
The manuscript entitled, "The Benefits of Early Intervention in Obese Diabetic Patients with FBCx™ - A New Dietary Fiber" is co-authored by Dr. George Grunberger of the Grunberger Diabetes Institute, Bloomfield Hills, MI and ArtJen President and Vice President Drs. K-L Catherine Jen and Joseph Artiss, Windsor, ON.
Dr. Grunberger states, "Our data shows that FBCx is effective at reducing and/or maintaining body weight in obese patients with type 2 diabetes, it lowered blood cholesterol levels in the patients that had elevated triglyceride levels and that there was some indication that it may delay the need for insulin injections in some patients." These findings have precipitated a second study currently underway at the Grunberger Diabetes Institute.
ArtJen President Catherine Jen is very excited that the data has been accepted by a scientific journal. Jen commented that, "Unlike other weight loss and diet pill manufacturers, we actually have the clinical data to substantiate the efficacy of FBCx." She added, "Furthermore, we are not afraid to publish our findings and expose them to the scrutiny of the medical and scientific communities."
Obesity has reached epidemic proportions worldwide. Two-thirds of the adult population of the USA is either overweight or obese. According to WHO statistics, there are one billion overweight individuals worldwide and 300 million of them are obese. All natural FBCx is proving to be an effective weapon in the war on obesity.
Following years of research, two university professors, Drs. Catherine Jen and Joseph Artiss have developed what has been described as a "powerful weapon in the war on obesity."
"We are very happy to be able to offer a safe and effective weight loss/weight management product to help combat the twin epidemics of obesity and diabetes," said Dr. Artiss. He continued by commenting that, "FBCx is not the magic bullet that is going to cure obesity, but it is a very powerful weapon in the battle of the bulge."
About Us:
ArtJen Complexus Holdings Corp. is the sole manufacturer of FBCx tablets, an all-natural, soluble, dietary fiber. FBCx has the very unique ability to bind nine times its own weight in dietary fat, essentially preventing 80 kilocalories of dietary fat from being absorbed per tablet. Taken as directed, two tablets of FBCx per fat-containing meal are capable of removing about 25-30% of the calories from a normal North American diet. This facilitates a decrease in body weight of about 1-1½ pounds per week.
The Grunberger Diabetes Institute was founded in 2002 by George Grunberger, MD, FACP, FACE as a state-of-the-art multidisciplinary clinical care and research facility focusing on dealing with diabetes and metabolic syndrome (http://www.gdi-pc.com or call 1-248-335-7740).
For additional information, please visit http://www.fbcx.com or call toll free 1-877-4-ARTJEN.
###