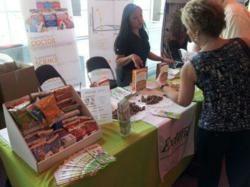 What we often hear is that there are not enough choices for diabetes snacks – so we end up feeling good about what we are doing.
St. Louis, MO (PRWEB) April 11, 2013
In a convention center filled with all things related to diabetes, Lou Shapiro found himself drawn to an exhibit featuring snacks for diabetics that help control blood sugar for up to 9 hours. He made his way past belly dancing and chair fitness and over to Extend Nutrition.
"The main thing is changing my diet," said Shapiro as he munched on samples of diabetic-foods such as bars and crunchy snacks. Shapiro, who was diagnosed with Type 2 diabetes about 12 years ago, said, "This is a good product and it works."
He was one of an estimated 2,000 people on Saturday, March 23, 2013, who attended the TCOYD (Taking Control of Your Diabetes) conference in Santa Clara, California. The diabetes snacks he tasted are from Extend Nutrition, a leader in diabetes nutrition that offers a line of patented, doctor-developed snacks clinically proven to offer valuable benefits for people with diabetes.
The diabetic-foods company will continue to reach out to people just like Shapiro as it travels throughout the country this year to diabetic events aimed at improving the lives of people with diabetes.
The next few months begin with events planned for April 13, both in Chicago, IL and Seattle, WA sponsored by the American Diabetes Association. Those two expos are estimated to reach a combined 14,000 people.
In May and June, Extend Nutrition will reach about 40,000 people as it participates in two ADA expos on May 4 (Los Angeles, CA and Portland, OR); two more on May 18 (Savannah, GA, TCOYD, and San Antonio, Texas, ADA); and one on June 29-30 in San Jose, CA, Fit Expo).
The diabetes events include health screenings, cooking demonstrations, product and service exhibitors, non-profit organizations and leading health experts focusing on the management of diabetes, research and prevention.
The events are important to Extend Nutrition, said Jonathan Lindberg, the company's community outreach manager, because they match the company's goal to improve the lives of people with diabetes.
"Participating in conferences reminds us all what is really important about our jobs – and that is helping people live healthier and happier lives," Lindberg said. "It is an invaluable experience to speak with members of the community and hear their opinion."
It is common, Lindberg said, to hear people with diabetes express the need for more snacks for diabetics at the events.
"What we often hear is that there are not enough choices for diabetes snacks – so we end up feeling good about what we are doing," Lindberg said. "Plus, we have a chance to exchange personal stories of how we use our products. For example, I use Extend Bars when I golf and so do a few professional golfers in the PGA and LPGA golf tours. But, not everybody wants to talk about golf – so for every person there is a different story we can share."
Lindberg said that speaking with people at the events is also helpful because it is an opportunity to get feedback and ideas for future products and formulations as well as to understand what nutritional concepts are important.
The snacks for diabetics, created by Dr. Francine Kaufman, contain a patented blend of lean protein, complex carbohydrates and healthy fats. The main ingredient, uncooked cornstarch, is a very complex carbohydrate that digests and converts to blood sugar for up to 9 hours.
Kaufman, world-wide endocrinologist and past president of the ADA, formulated the bars first to help reduce nighttime hypoglycemia for children with diabetes. Today, the diabetes snacks are also used to help people control hunger, lose weight and sustain energy.
The snacks for diabetics now include 17 flavors with both sweet and savory choices, bars, shakes and crunchy snacks. They can be found in more than 25,000 retail locations with diabetic-foods – including Wal-Mart, Walgreens, CVS, Target, Kmart, Publix, Safeway and Kroger.
+ + +
Invented by Dr. Francine Kaufman, world-renowned endocrinologist and former President of the American Diabetes Association, the patented line of Extend Nutrition Bars, Shakes, Crisps and Drizzles are delicious nutritional solutions clinically-proven to help control blood sugar for up to 9 hours. Blood sugar control is the key to both diabetes and weight management. Extend Nutrition snacks have been endorsed by thousands of certified diabetes educators and registered dietitians around the world for over 10 years.
Extend Nutrition products are now available at more than 25,000 retailers nationwide, including your local Wal-Mart, Walgreens, CVS, Target, Kmart and other leading retailers where diabetes nutrition products are sold (near the pharmacy). Extend Nutrition strives to provide families with simple nutritional solutions that deliver peace of mind and confidence resulting in a healthier and happier lifestyle.