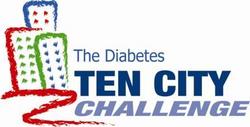 If people are willing to engage and try to reach the goals they and their coaches set, it can improve their quality of life, help them work longer and literally add years to their lives.
Washington, D.C. (Vocus) October 30, 2008
As our broken health care system and escalating costs associated with chronic disease and health insurance continue to take center stage in this year's presidential campaigns, an innovative employer-based program is celebrating its third year of improving health and reducing costs for people with diabetes.
The Diabetes Ten City Challenge (DTCC) , launched in 2005, is an employer-based diabetes self-management program conducted by the APhA Foundation with support from GlaxoSmithKline. Through the DTCC, participating employers establish a voluntary health benefit for employees, dependents and retirees with diabetes, and waive co-payments for diabetes medications and supplies if they work with a pharmacist "coach" to manage their condition. The DTCC is modeled after other highly successful APhA programs that have shown to improve overall health, reduce absenteeism, shorten hospital stays and reduce health care costs.
"When we launched the DTCC three years ago, we wanted to fundamentally change the way chronic disease is treated and paid for by emphasizing the importance of investing in wellness and using incentives to reward everyone involved," said APhA Foundation CEO William M. Ellis. "Today, hundreds of pharmacists are helping more than 1,000 people successfully manage their diabetes and improve their lives, thanks to the participation of 30 employers in 10 cities."
Interim data for 914 DTCC participants released earlier this year showed statistically significant improvements in patient satisfaction and key clinical measures including A1C (blood glucose), blood pressure and cholesterol levels. Final economic and clinical data will be published by the Foundation in March 2009.
"In our years of experience with this model, we have seen that when you have positive clinical outcomes and increased patient satisfaction in the early stages, the economic benefits follow," Ellis said. "The interim data is tracking similarly with past successful programs that utilized the collaborative care model, and we are excited about how the DTCC is transforming people's lives."
Jan Park, RN, wellness programs manager for the City of Charleston, S.C., notices a pronounced improvement in employee morale among the city's 100 DTCC participants. "Employees feel good that someone is looking out for them and providing for them," said Park, who arranges for pharmacists to see patients at their worksites. "If people are willing to engage and try to reach the goals they and their coaches set, it can improve their quality of life, help them work longer and literally add years to their lives."
DTCC participant Toni Bennett, 55, property management coordinator for the City of Charleston, began working out up to four times a week after signing on with DTCC pharmacist coaches James Sterrett, PharmD, and Chris Dibble, PharmD.
"This program is life-changing," said Bennett, who used to miss work at least two weeks a year due to diabetes and rheumatoid arthritis issues. "Before I enrolled in the DTCC, I was tired all the time. Now I pay attention to food choices and my blood sugar levels are way down. Being more physically active, I've had only one arthritis flare-up this year where I used to suffer several days each month with excruciating pain."
Bringing pharmacists into counseling roles gives them first-hand experience in providing patient-centered care. Sterrett says his attitude toward patients and his profession has really changed through his experience as a pharmacist coach for the DTCC. "It isn't about my agenda for diabetes care, but the importance of my relationship with each individual patient and that patient's individual needs," he confirms.
"The employers, pharmacists and participants in the DTCC are writing a new chapter in health care - their experiences are demonstrating that by helping people to better understand and self-manage their diabetes, we can improve their health and lower costs," Ellis said. "It's a win-win for everyone."
About the DTCC Model
The APhA Foundation contracts with employers, helps establish local pharmacist networks and provides software and data analysis for the DTCC, which involves 30 employers in Charleston, S.C.; Chicago, Ill., Colorado Springs, Colo.; Cumberland, Md.; Dalton, Ga.; Honolulu, Hawaii; Los Angeles, Calif.; Milwaukee, Wis., Pittsburgh, Pa., and Tampa Bay, Fl.
Specially trained pharmacists meet with participants regularly to help them track key diabetes indicators and teach them the importance of healthy eating, exercise, foot and eye exams and taking medications as prescribed. Pharmacists communicate with physicians after every visit and refer patients to other health care providers for additional care or education as needed.
About Diabetes
According to the Centers for Disease Control , 23.6 million Americans had diabetes in 2007, nearly a third undiagnosed, which is a 13.5 percent increase since 2005. The American Diabetes Association estimated that the total economic cost of diabetes was $174 billion for 2007. This includes medical expenditures for diabetes and related complications, and $58 billion in indirect costs resulting from increased absenteeism, reduced productivity, disease-related unemployment disability and loss of productive capacity due to early mortality.
About the APhA Foundation
The American Pharmacists Association (APhA) Foundation , headquartered in Washington, D.C., is a non-profit organization affiliated with the American Pharmacists Association, the national professional society of pharmacists in the United States. The APhA Foundation designs programs that seek to create a new medication-use system in the U.S. where patients, pharmacists, physicians and other health care providers collaborate to dramatically improve the cost and quality of consumer health outcomes through the safe and effective use of medications.
CONTACT:
Caren Kagan Evans
301-309-8487 (direct)
caren @ ecicommunications.com
###