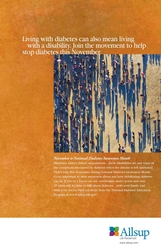 Diabetes can have very painful side effects -- if we can keep them more comfortable we can also help with their stress level.
Belleville, Ill. (Vocus) November 3, 2010
Almost 24 million Americans have diabetes and nearly 300,000 people diagnosed with endocrine, nutritional and metabolic diseases as their primary diagnoses receive Social Security Disability Insurance (SSDI) benefits¹, according to Allsup, the nation's leading Social Security disability representation company. Those numbers are expected to rise.
A recent study² found that hospitalizations for diabetes in the United States rose 65 percent over a 14-year span (1993 to 2006).
"Despite its prevalence, public awareness about diabetes is very low," said Allsup disability claims manager Cindy Ratermann. According to the National Diabetes Education Program (NDEP), nearly six million people who have the disease don't even know it.
Diabetes is an endocrine disorder marked by high levels of blood glucose resulting from defects in insulin production, insulin action, or both. Insulin is necessary for the body to be able to use glucose for energy. In type 2 diabetes (the most common form), either the body does not produce enough insulin or the cells ignore the insulin.
Managing stress can be critically important for people with diabetes. According to the American Diabetes Association, stress can alter blood glucose levels in people with diabetes in two ways:

People under stress may not take good care of themselves. They may drink more alcohol or exercise less. They may forget, or not have time, to check their glucose levels or plan good meals.
Stress hormones may also alter blood glucose levels directly.
Individuals with diabetes who are unable to continue working may face financial pressures in addition to the challenges of managing their disease. Filing for SSDI benefits is a positive step, but the application process itself can be stressful.
A national survey conducted by Allsup revealed that a majority of SSDI applicants experienced financial crises, extreme stress and declining health while stuck in the federal disability backlog.
"We work with people with diabetes every day to help them through what can be a very stressful process," Ratermann said. "We do all the paperwork with them over the phone. We keep them updated on their claim status, interact with their long-term disability carriers and SSA. We also keep them out of the Social Security office and in the comfort of their own homes. Diabetes can have very painful side effects -- if we can keep them more comfortable we can also help with their stress level."
November is National Diabetes Awareness month, and NDEP's Control Your Diabetes for Life campaign encourages people with diabetes to control their disease by eating healthy foods in the right amounts, getting regular physical activity, taking diabetes medications as prescribed and testing blood sugar on a regular basis. These lifestyle changes also help to manage stress.
Allsup is offering free National Diabetes Awareness Month posters to raise awareness and direct people to the NDEP web site. You can order or download posters at AllsupCares.com or by calling Karen Hercules-Doerr at (800) 854-1418, ext. 5770.
ABOUT ALLSUP
Allsup is a nationwide provider of Social Security disability, Medicare and Medicare Secondary Payer compliance services for individuals, employers and insurance carriers. Founded in 1984, Allsup employs nearly 700 professionals who deliver specialized services supporting people with disabilities and seniors so they may lead lives that are as financially secure and as healthy as possible. The company is based in Belleville, Ill., near St. Louis. For more information, visit http://www.AllsupCares.com .
¹ February, 2010, Social Security Administration, Beneficiaries in Current-Payment Status, Annual Statistical Report on the Social Security Disability Insurance Program, 2009. http://www.socialsecurity.gov/policy/docs/statcomps/di_asr/2009/sect01.pdf
² October, 2010. Age and sex differences in hospitalizations associated with diabetes, Journal of Women's Health, Vol. 19, No. 11, 2010.
###