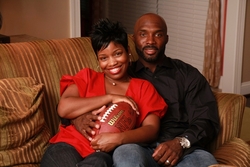 Step Out to Fight www.marcimason.com [Diabetes]
Nashville, TN (Vocus) September 17, 2008
Baltimore Ravens, Wide Receiver Derrick Mason and wife Marci, venture out yet again to not only support one another as they so compassionately do, but to lend a hand to others. Derrick & Marci have been named co - chairs for the event "Step Out to Fight Diabetes" on October 4, 2008 at M &T Bank Stadium.
Radio Host and Community Activist, Marci Mason has spent many years living with the disease of diabetes. After learning at the tender age of 19, she would forever be insulin dependent; she vowed to take the necessary steps to fulfill a normal and healthy life. Undeniably Marci's personal experience with diabetes has transformed her into an advocate for healthier living. Marci comments, "It's not easy and having the encouragement of my husband and family, truly makes a difference."
The Masons are known nationwide for their philanthropic spirit and support of one another. She and husband Derrick Mason have repeatedly given their time and money for worthy causes to help though out the community and this event is more personal as it affects the family first hand. "When we found out that the death rate due to diabetes is 56% higher in Baltimore than the national average, we had to participate" exclaims Derrick.
The Masons are inviting everyone to get involved. On September 25, all monies raised for the event will be matched up to $2,500 by Derrick and Marci personally. We encourage everyone to support this cause and make a donation by going to http://www.diabetes.org/stepout, click on Maryland, then Baltimore. Support a friend that is walking or sign up to walk and raise money yourself. If you need more information call: 410.265.0075 for answers. Come on out and support not only this family that cares, but the organization daring to make a difference - American Diabetes Association.
About American Diabetes Association
The American Diabetes Association, founded in 1940, is the nation's premier voluntary health organization supporting diabetes research, information and advocacy. For more information, please visit http://www.diabetes.org or call 1-888-DIABETES (1-888-342-2382). Information from both these sources is available in English and Spanish.
###