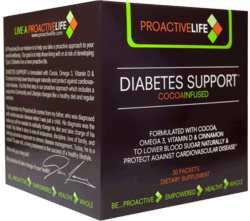 There are 26 million confirmed diabetics and 79 million pre-diabetics in the US.
Rancho Palos Verdes, CA (PRWEB) November 06, 2012
ProactiveLife was founded in 2011 to help people take control of their health. The approach incorporates community, lifestyle changes, and natural supplements to assist people with blood sugar regulation and provide cardiovascular support.
A Community of Expert dietitians and exercise trainers operating in the field of diabetes has been assembled by the company. The purpose is to provide guidance to type 2 diabetics and pre-diabetics in terms of diet, exercise and natural supplementation. Experts agree proper diet (low in fats and sugars) along with regular exercise is crucial to diabetic management.
"When you think you don't have time for fitness, you should ask yourself if you have time to be sick, diseased, tired, or depressed. Staying fit is not a luxury! Ultimately, we all want to appear prettier, sexier and more desirable, but these should be the rewards of fitness--not the goals. Understanding why we should stay fit will help to remind you of one simple fact: 'Health is your biggest wealth,'" said Michael Stirk, expert trainer and former US Navy helicopter rescue swimmer.
"If you have type 2 diabetes, your doctor probably encouraged you to make some dietary changes to help get your blood sugar under control. If you understand that blood sugar control is needed to the prevent complications of diabetes, you have an important reason to continually remind you 'why' you need to make this change. For any change to last, the reason has to be important to you," said Gretchen Scalpi (registered dietitian, certified diabetes educator and certified Wellcoach®).
Diabetes Support contains 10 ingredients to lower blood sugar naturally including cocoa, cinnamon, omega-3, vitamin D and others while providing cardiovascular support. Along with lifestyle changes including diet and exercise Diabetes Support is a new proactive approach to Type 2 Diabetes management.
ProactiveLife
http://www.proactivelife.com