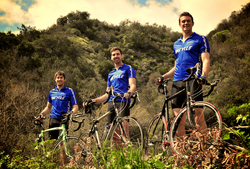 This is way more than a little romance. I watch my fiancé test blood sugar in the middle of the night, inject insulin, taken her to the emergency room and count carbs and measure insulin with each meal. My fellow riders and I must help find a cure.
Santa Monica, CA (PRWEB) May 28, 2010
Cyclists ride cross-country to help raise funds for American Diabetes Association.
Through rain and shine, three fellow graduates ride for the love of their lives.
Beginning Sunday, June 6 through July 28, three best friends and fellow graduating seniors from Azusa Pacific University launch their not-for profit organization, Connect for the CURE™ and commence their 3,300 mile bike ride from the Santa Monica Pier to New York City in an effort to raise funds and awareness for critical diabetes research. Funds raised go directly to the American Diabetes Association, whose mission is to prevent and cure diabetes and to improve the lives of all people affected by diabetes. For more information or to donate, please visit Connect for the Cure website (http://www.connectforthecure.net).
Leading the fight against the deadly consequences of diabetes and for those affected is college senior and aspiring pro baseball player Ryan Rosenhahn, along with two fellow students, also just graduated seniors, Christian Gagne and Matthew Kaiser who team up with the ADA's Tour de Cure® as they commence their tour at 10 AM in Santa Monica and stop in over 42 cities in 14 states and terminate the ride in Manhattan July 28. Their reason: The three riders and car driver all have friends and loved ones with diabetes.
"Watching my fiancé fight type 1 diabetes makes me feel powerless but at the same time, propels me to help raise funds for research," says Ryan Rosenhahn, 23, who is literally passionate about the prevention and cure. Rosenhahn, who fell in love with his girlfriend over six years ago, made a commitment to help not only her, but millions of others with the same disease. "This is more than just a little romance. I have watched my fiancé test her blood sugar in the middle of the night, inject insulin shots, have taken her to the emergency room and help calculate carbohydrates and measure insulin with each meal. There is no better time in my life to go on this journey," says Rosenhahn whose fiancé was diagnosed with type 1 at the age of nine.
Ryan's fiancée meets Rosenhahn at the end of the journey in Manhattan in a special romantic ceremony at Rockefeller Center.
The riders will travel through cities like Las Vegas, Colorado Springs, Chicago, Lincoln, NB, Omaha, Pittsburgh, and Washington, DC. Connect For The Cure™ accepts donations from individuals, family and friends as well as corporate and group sponsorships. All donations are directly liked to the American Diabetes Association. Contributors will be given special acknowledgement on the Connect For The Cure website and other means by arrangement. The riders are also looking for support like food, clothing, cycle equipment and shelter along the route.
"We need a cure now," says Orange County cyclist Christian Gagne, 23, whose mother was diagnosed with type 2 diabetes in 1999 and knows firsthand of the complications of diabetes that may not be reversible. While the job market for the sociology major may be tight, Gagne anticipates raising $100,000 during the course. "I will be thinking of each and everyone with diabetes with every push of the pedal and mile completed. Someday soon we hope that the 24 million with diabetes in the U.S. and many millions more won't have to worry about a future with blindness, amputation, neuropathy, or kidney disease," says Gagne.
Matthew Kaiser, 23, from Diamond Bar, CA, the third rider, describes his mother with type 2 but who had pre-diabetes before her diagnosis. For some folks with pre-diabetes, intervening early can turn back the clock. "I want my mom around for a long time, and I know millions of other Americans want the same for their parents. I believe that to make a difference we must raise awareness for the devastating complications," says Kaiser, a history major.
Nate Martinez, 21, the support car driver and art major who got involved when he overheard the riders plan the event, also has family members affected by diabetes. "My job will be to carry supplies, motivate the riders, and to ensure all preparations go according to plan. Anything I can do to help raise money to fight this deadly disease is important to me and my family."
INTERVIEW OPPORTUNITIES WITH RIDERS AVAILABLE
Dates and Map of 42-City Route Available
FOR SPONSORSHIP INFORMATION OR TO DOWNLOAD PHOTOS AND VIDEO: http://connectforthecure.net/photos/
About The American Diabetes Association: The American Diabetes Association is leading the fight against the deadly consequences of diabetes and fighting for those affected by diabetes. The Association funds research to prevent, cure and manage diabetes; delivers services to hundreds of communities; provides objective and credible information; and gives voice to those denied their rights because of diabetes. Founded in 1940, their mission is to prevent and cure diabetes and to improve the lives of all people affected by diabetes. For more information please call the American Diabetes Association at 1-800-DIABETES (1-800-342-2383) or visit http://www.diabetes.org. Information from both these sources is available in English and Spanish.
# # #