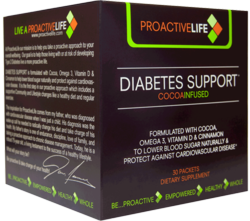 Diabetes Support supplement by ProactiveLife contains ten ingredients to help lower blood sugar and provide cardiovascular support.
Rancho Palos Verdes, CA (PRWEB) October 22, 2012
A large federal study focusing on whether diet and weight loss could prevent heart attack and strokes ended two years ahead of schedule because the indications revealed intensive therapy did not help.
"I was surprised," said Rena Wing, the study's chairwoman and a professor of psychiatry and human behavior at Brown University's medical school.
Type 2 Diabetes is reaching epidemic proportions with nearly 26 million confirmed diabetics and 79 million pre-diabetics in the Unites States with many diabetics overweight and obese. Spending on diabetes will exceed $180 billion in 2013 according to US government statistics.
According to the New York Times as reported below.
The study randomly assigned 5,145 overweight or obese people with Type 2 diabetes to either a rigorous diet and exercise regimen or to sessions in which they got general health information. The diet involved 1,200 to 1,500 calories a day for those weighing less than 250 pounds and 1,500 to 1,800 calories a day for those weighing more. The exercise program was at least 175 minutes a week of moderate exercise.
But 11 years after the study began, researchers concluded it was futile to continue — the two groups had nearly identical rates of heart attacks, strokes and cardiovascular deaths.
The investigators are analyzing their data and will be publishing them in research papers.
But the outcome is clear, said Dr. David Nathan, a principal investigator and director of the Diabetes Center at Massachusetts General Hospital. "We have to have an adult conversation about this," he said. "This was a negative result."
The study participants assigned to the intensive exercise and diet program did lose about 5 percent of their weight and managed to keep it off during the study. That was enough to reduce cardiovascular risk factors.
"We showed that meaningful weight loss — let's put 'meaningful' in quotes — could be established and maintained," Dr. Nathan said. "To me that means we did a good experiment. We had a fair test of this hypothesis."
ProactiveLife was founded in 2011 to help people take control of their health. The approach incorporates community, lifestyle changes, and natural supplements which have been proven to assist people with blood sugar and energy regulation.
Diabetes Support Supplements contains two grams of omega 3 fish oil, turmeric, cinnamon, vitamin d, and pure cocoa powder which according to numerous studies can lower triglyceride and LDL levels while improving HDL levels. Additionally pure cocoa powder has been shown to reduce the risk of stroke in both men and woman.
1. Effects of chocolate, cocoa, and flavan-3-ols on cardiovascular health: a systematic review and meta-analysis of randomized trials. Hooper L, Kay C, Abdelhamid A, Kroon PA, Cohn JS, Rimm EB, Cassidy A. Am J Clin Nutr. 2012 Mar;95(3):740-51.
2. High-cocoa polyphenol-rich chocolate improves HDL cholesterol in Type 2 diabetes patients. Mellor DD, Sathyapalan T, Kilpatrick ES, Beckett S, Atkin SL. Diabet Med. 2010 Nov;27(11):1318-21.
3. Vitamin D and Cardiovascular Disease. Danik JS, Manson JE. Curr Treat Options Cardiovasc Med. 2012 Jun 12.
4. Omega-3 supplementation lowers inflammation in healthy middle-aged and older adults: A randomized controlled trial. Kiecolt-Glaser JK, Belury MA, Andridge R, Malarkey WB, Hwang BS, Glaser R. Brain Behav Immun. 2012 May 26.
5. Effects of a cinnamon extract on plasma glucose, HbA, and serum lipids in diabetes mellitus type 2. Mang B, Wolters M, Schmitt B, Kelb K, Lichtinghagen R, Stichtenoth DO, Hahn A. Eur J Clin Invest. 2006 May;36(5):340-4.
ProactiveLife
http://www.proactivelife.com