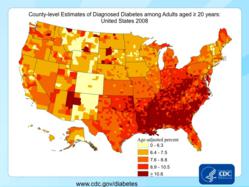 "In 2010, no state had a prevalence of obesity less than 20%." CDC
Rancho Palos Verdes, CA (PRWEB) January 19, 2012
After learning of Chef Paula Deen's revelation she has been diagnosed with type 2 diabetes ProactiveLife (http://www.proactivelife.com), a company focused on helping people manage type 2 diabetes, has formed a community of expert dietitians and exercise trainers. The purpose is to provide guidance to type 2 diabetics and pre-diabetics in terms of diet, exercise and natural supplementation. Experts agree proper diet (low in fats and sugars) along with regular exercise is crucial to diabetic management.
According to government statistics, over 33% of Americans are considered obese in 2010. During the past 20 years, there has been a dramatic increase in obesity in the United States and rates remain high. In 2010, no state had a prevalence of obesity less than 20%. Leading causes of Type 2 Diabetes include poor diet (fat and sugars) lack of exercise and age. Consuming high quantities of fried food, saturated fats, sugars leads to obesity and type 2 diabetes.
According to the Diabetes Prevention Program presented by the National Institutes of Health (NIH) diet and exercise could dramatically reduce the chances of developing diabetes. The DPP's results indicate that millions of high-risk people can delay or avoid developing type 2 diabetes by losing weight through regular physical activity and a diet low in fat and calories. Weight loss and physical activity lower the risk of diabetes by improving the body's ability to use insulin and process glucose. Participants in the lifestyle intervention group-those receiving intensive individual counseling and motivational support on effective diet, exercise, and behavior modification-reduced their risk of developing diabetes by 58 percent.
"When you think you don't have time for fitness you should ask yourself if you have time to be sick, diseased, tired, or depressed?  Staying fit is not a luxury! Ultimately, we all want to appear prettier, sexier and more desirable but these should be the rewards of fitness not the goals. Understanding why we should stay fit will help to remind you of one simple fact…. 'Health is your biggest wealth,'" says Michael Stirk expert trainer and former US Navy helicopter rescue swimmer.
"If you have type 2 diabetes, your doctor probably encouraged you to make some dietary changes to help get your blood sugar under control. If you understand that blood sugar control is needed to the prevent complications of diabetes, you have an important reason to continually remind you "why" you need to make this change. For any change to last, the reason has to be important to you," says Gretchen Scalpi (registered dietitian,  certified diabetes educator, and certified Wellcoach®).
ProactiveLife (http://www.proactivelife.com) was founded in 2011 to help people living with chronic disease take control of their health. The approach incorporates community, lifestyle changes, and natural supplements which have been clinically proven to assist people with type 2 diabetes.
Diabetes Support contains 10 clinically proven ingredients to lower blood sugar naturally including cocoa, cinnamon, omega-3, vitamin D and others. Along with lifestyle changes including diet and exercise Diabetes Support is a new proactive approach to Type 2 Diabetes management.
ProactiveLife
http://www.proactivelife.com
###