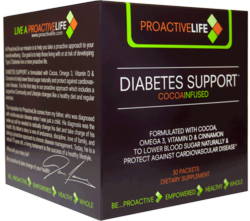 "The inspiration to start ProactiveLife came from my father suffers from inherited cardiovascular disease," says founder James Lowenstein
Rancho Palos Verdes, CA (PRWEB) January 05, 2012
Type 2 Diabetes is reaching epidemic proportions with nearly 26 million confirmed diabetics and 79 million pre-diabetics in the Unites States. Spending on diabetes will exceed $180 billion in 2012 according to US government statistics. Obesity is the second leading cause of death among preventable chronic diseases. A new proactive approach combining lifestyle modification and natural supplements with clinically proven ingredients is needed.
ProactiveLife (http://www.proactivelife.com) was founded in 2011 to help people living with chronic disease take control of their health. The approach incorporates community, lifestyle changes, and natural supplements which have been clinically proven to assist people with type 2 diabetes.
"The inspiration to start ProactiveLife came from my father suffers from inherited cardiovascular disease," says founder James Lowenstein. Diabetes Support is unique because it addresses both the cause and effect of type 2 diabetes by naturally lowering blood sugar levels and protecting against cardiovascular disease which is the number one cause of death among diabetics.
Diabetes Support contains 10 clinically proven ingredients to lower blood sugar naturally including cocoa, cinnamon, omega-3, vitamin D and others. Along with lifestyle changes including diet and exercise Diabetes Support is a new proactive approach to Type 2 Diabetes management. A Community of Experts has been created to share tips on healthy eating, proper exercise and provide the latest news on diabetes.
ProactiveLife
http://www.proactivelife.com
###