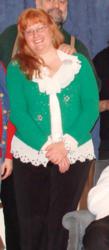 My doctor and I thought it might be a good fit for me
Fort Washington, PA (PRWEB) November 08, 2012
Coralee Grebe of Rochester, Minnesota didn't need a crystal ball to see what was in her future. Two years of above normal glucose tests during routine blood work told her that she was heading down the same path many of her family members were already on: Diabetes. Grebe is not alone. One in three Americans has diabetes or prediabetes according to the American Diabetes Association. For the 53-year-old Grebe, losing weight was her prescription to see if she could avoid the diagnosis that seemed to plague her family, and Nutrisystem was the answer.
Grebe is the first to admit that she can't blame everything on family history. "I was overweight, verging on being obese. After my hysterectomy, it had become almost impossible to lose weight," notes Grebe.
But it was what that weight was doing to how she felt, and even more importantly, to her health that caused alarm bells to ring for Grebe. "The extra weight affected my energy, my productivity and even my flexibility." When her doctor saw two consecutive years of elevated glucose in her blood work, the conversation became even more serious about strategies to combat what was increasingly seemed like an inevitable diagnosis of diabetes.
Diabetes, in and of itself, is a scary and life altering diagnosis, but it can also bring on life threatening complications for people living with the disease. According to The Centers for Disease Control (CDC), adults with diabetes have heart disease death rates about 2 to 4 times higher than adults without diabetes and the risk for stroke is 2 to 4 times higher among people with diabetes.
But the type 2 diabetes epidemic is highly preventable.
Studies have shown that losing even relatively little weight can have a dramatic impact on preventing type 2 or delaying progression of prediabetes or type 2 diabetes. Several independent studies, including the NIH multicenter study known as Look AHEAD (Action for HEAlth in Diabetes), have shown that losing as little as 5%-10% of body weight can slow the progression of type 2 diabetes, help people improve their glucose, blood pressure and more, and take fewer related costly medications.
After two long years of trying to lose weight on her own, Grebe knew she had to try something else. Grebe chose Nutrisystem because the company had a program focused on people with type 2 diabetes, the Nutrisystem®D® program. "My doctor and I thought it might be a good fit for me," she says. Grebe loved the fact that the program was customizable. "The food immediately turned off my hunger switch." Despite numerous temptations in the form of parties, receptions and holidays, Grebe didn't stray from her plan. "With Nutrisystem, I just had healthy, consistent, weight loss."
The Nutrisystem D program is specifically designed for people with type 2 diabetes to effectively lose weight and manage their blood glucose, as well as for those who are at risk for diabetes. The home-delivered, portion-controlled, nutritionally balanced weight loss program is based on the science of the low glycemic index and meets the nutritional guidelines of the American Diabetes Association.** Nutrisystem D, in combination with counseling sessions, has been clinically proven to be effective in helping people with type 2 diabetes lose weight and manage their blood glucose. It is also designed to be appropriate for overweight patients with type 1 diabetes, as well as those who are at risk for diabetes. **American Diabetes Association: Standards of medical care in diabetes - 2012 (Position Statement). Diabetes Care 35 (suppl.1): S11-S63.
"Type 2 diabetes is reaching epidemic proportions in the United States, but it is a disease that is often preventable with a lifestyle-based approach – better eating habits, regular physical activity, and better tools to self-monitor and self-manage the risks," said Dr. Bruce Daggy, Chief Science Officer at Nutrisystem. "We created Nutrisystem D for people living with type 2 diabetes but also for people like Coralee – who want to stave off getting the disease by proactively controlling their weight and taking care of their health."
Grebe, who is down 45* pounds after being on Nutrisystem D, believes that she is heading for a fantastic future. "Now I'm proud to say that, for the first time, I'm 10 pounds below my driver's license fantasy weight," she notes. "I could tell you about the usual numbers, but the most important numbers were the improved ones on my blood work. Thanks to my weight loss and increased activity, I was never quite diabetic–and I want to keep it that way."
*Results not typical.
On Nutrisystem®, you can expect to lose at least 1-2 lbs per week. Individuals are remunerated. Weight lost on prior Nutrisystem® program.
To view additional Nutrisystem success stories like Coralee, and for more information on the Nutrisystem® SUCCESS™ program and to order today, please visit http://www.nutrisystem.com/success4u or call 1-888-841-2572.
About Nutrisystem
Having helped Americans lose millions of pounds over the last 40 years, Nutrisystem, Inc. (NASDAQ: NTRI) develops evidence-based programs for healthy weight management, and is the leading provider of home-delivered weight loss meal plans. Nutrisystem offers balanced nutrition in the form of low glycemic index meal plans designed for men and women, including seniors, vegetarians and the Nutrisystem® D® program for people with diabetes or at risk for type 2 diabetes. Nutrisystem® plans include a wide variety of pantry and fresh-frozen entrees and snacks to aid in program satisfaction and adherence, as well as transition plans to support long-term success. The Fort Washington, PA-based company also provides weight management support and counseling by trained weight-loss coaches and registered dietitians, as well as through an engaged online community, online tools and trackers, mobile apps, cookbooks and more. Healthcare professionals may learn more about the programs by visiting http://www.nutrisystem.com/hcp. The Company has also introduced a new in-store retail line, Nutrisystem® EverydayTM products, comprised of nutritionally balanced bars, smoothies, bakery and breakfast items aimed at consumers who aspire to eat healthier.