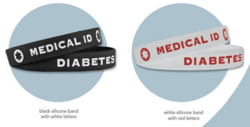 We received so many thank you emails that it really helped to put what we do in perspective.
Houston, TX (PRWEB) December 12, 2012
American Medical ID stepped up to provide more than twenty thousand people with diabetes a free medical ID bracelet during the month of November to celebrate Diabetes Awareness Month. This program was completely free to the public and was created to not only show support to the diabetes community, but to help provide a simple, potentially life-saving tool to those who otherwise could not afford one.
The effort was led by a social campaign through the American Medical ID Facebook page to spread awareness among the diabetes community. Hundreds of people shared posts explaining the program and how to order a free medical ID. Likes, comments and shares came from all over the country and across the globe. Within days, the program had become viral and diabetes related support groups and non-profit organizations were spreading the word.
The Joslin Diabetes Center at Harvard Medical School says that medical ID bracelets can be extremely important for people with diabetes. Should a person with diabetes have a low blood glucose reaction and suddenly become confused or unresponsive, the medical ID bracelet allows immediate identification of the problem to both bystanders and paramedics. The sooner the low blood glucose reactions can be identified, the sooner they can be treated.
Medical ID bracelets are recommended for every person with diabetes by the American Diabetes Association. On their website (http://www.diabetes.org), they posted their support of the tool, "You should have a medical ID with you at all times. Emergency medical personnel are trained to look for a medical ID."
When asked about the tremendous response to the program, Rick Russell, President and CEO of American Medical ID, said, "I couldn't be happier with how well this program was received. For over a decade we have had the privilege of providing personally engraved medical IDs to the diabetes community, among others, and it feels great to be able to give back. We received so many thank you emails that it really helped to put what we do in perspective. Our products empower people to retain personal independence and continue to engage life to the fullest with confidence and peace of mind."
Since 1994, Houston-based, employee owned and operated, American Medical ID has created high quality, customized medical identification jewelry to meet every unique lifestyle. Candidates for a medical ID include anyone living with chronic or rare medical conditions such as diabetes, asthma, heart conditions, stroke risk or memory impairment; persons with allergies such as food, drug or insect; and those taking multiple medications or blood thinners. For more information about American Medical ID, visit http://www.IdentifyYourself.com or call (713)695-0284.