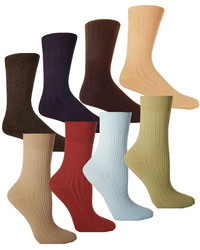 Ben Franklin once said, "An ounce of prevention is worth a pound of cure."
San Diego, CA (PRWEB) August 2, 2010
Normal socks have elastic in the top, basically rubber bands, avoid that daily sock ring imprint and you can help the health and beauty of your legs. Diabetic socks have a non-binding top, which enhances circulation and helps toward the prevention of blood clots and varicose veins. Sugar Free Sox diabetic socks and compression socks product line is geared to keeping legs healthy and comfortable with fashionable styles and colors.
Health socks or diabetic socks are not only for those in need of comfort. The preventative benefits and just plain comfort can be used by anybody. They call them diabetic socks because they have three key features diabetics need: a non-binding top, seamless toe and antimicrobial coating. These features allow the socks to be worn for long periods of time, also ideal for those who travel or sleep in socks.
Regular socks are kept up by elastic. If you were asked to wear rubber bands around your legs for 40 years you would say "your crazy", but that is what most people are doing. Sugar Free Sox customer Clint Faith told us, "I don't have any foot or leg issues to require using a non-binding sock, but obviously want to wear my own product. I was amazed after a few weeks when I went to put on athletic socks how tight and constricting they were."
Ben Franklin once said, "An ounce of prevention is worth a pound of cure." And maybe you will avoid those ugly varicose veins. The diabetic socks are also available in men's and ladies and styles with a multitude of choices. For additional contact Sugar Free Sox for non-binding or compression socks. Visit sugarfreesox.com or call 858.481.7691.
###