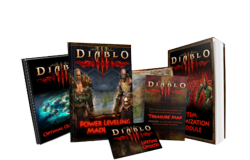 The way to reach level 60 with explosive speed is to skip most content and concentrate on a very specific series of quests that double or triple a character's leveling speed
(PRWEB) May 17, 2012
Diablo 3 is Blizzard's latest release in the grim but exciting Diablo game series, as a new selection of heroes battle against the forces of the Burning Hells and the Lord of Terror, Diablo, himself. Players can choose from one of five powerful classes, who can be enhanced with followers, artisans, equipment, gems and potions. The game offers nonstop action against a huge range of bizarre, interesting, horrific opponents as the player builds their character towards maximum level: 60.
Burning a swift path to the highest level unlocks all of the game's most exciting content – arrays of potent skills and spells that make a character extremely fun and versatile to play, truly challenging foes who test the player's mettle to the limit, spectacular rare equipment, and the possibility of playing through Nightmare and Hell to unlock Inferno difficulty mode at 60.
Achieving this level quickly without a good guide is tough and near to impossible. The new game has large amounts of quests and material for those who want to linger along the way, and the way to reach level 60 with explosive speed is to skip most of this content and concentrate on a very specific series of quests that double or triple a character's leveling speed.
The Diablo 3 Leveling guide launches characters towards level 60 at searing speed, and keeps the player on track until victory is achieved. Using this guide gave one skilled player the world first of level 60 in three days after launch and other players can try to match that achievement – and, at a minimum, change their leveling pace from an uncertain shuffle to a cheetah-swift charge.
The high octane leveling and game aid features of the Diablo 3 Speed guide include:

A step-by-step walk-through of the whole game for each class to maximize leveling speed to 60.
Many excellent, powerful, fully tested PvE builds, including skill builds and runes.
Plenty of visuals to provide an instant grasp of what needs to be done, making the guide easy to reference while in the thick of the action.
Detailed instructions on using different followers and artisans to empower each character class.
Clear, systematic layout that doesn't waste space on fluff or long winded explanations.
Complete coverage of the whole Diablo 3 game in all its breadth and detail.
Full information on special events, places rich in experience or where rare loot is likely to drop, and other secrets of getting the most out of the Diablo 3 experience.
This guide was written by one of the most experienced gamers of the Diablo scene, one who has achieved mastery and understanding of every nuance of the game as well as its grand structure and far-flung scope. His skill shows through in the excellence of this product, which covers the whole game world and every class in intensive detail, yet remains smooth, direct, and easy to use.
Players using these techniques will become champions and winners in the tough, dangerous world of Diablo 3 – and can even aspire to match the amazing three day leveling to level 60 that the Diablo 3 Speed creator achieved using his powerful guide.
More information is available about this guide at http://www.Diablo3Speed.com.
The Diablo 3 Speed guide has set an astounding record – propelling a player from level 1 to 60 within three days of Diablo 3's launch! The guide offers the powerful advice and exciting features that allow any energetic player to do the same, reach level 60 with lightning speed and gain mastery in every aspect of the game.