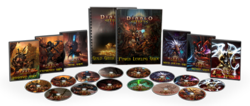 Diablo 3 Secrets transforms your character into an indomitable champion in the game's every aspect.
(PRWEB) May 10, 2012
A new guide unveils highly effective power leveling and character enhancement secrets developed by some of Diablo 3's finest players: Diablo 3 Secrets is packed with cutting edge techniques from the world's most expert players in Diablo 3. These exciting methods boost a player from victory to lightning-fast victory, transforming a character into an indomitable champion in the game's every aspect.
Driven by frustration at his slow leveling and constant defeats in Diablo II and in World in Warcraft, Peng Joon set out to discover the secrets of power and success in gaming and has succeeded in translating those techniques to Diablo 3. Leaning his trade from the top players of the Diablo and WoW franchise – these powerful, hard-hitting play techniques that he has gathered together has formed his potent new system, Diablo 3 Secrets.
This amazing Diablo 3 gold and leveling guide offers any player the knowledge to master every part of the game, from power leveling, to gold techniques, to winning rare gear easily, to anything else in Diablo 3 that the heart is set on. If one is going to learn, it's wisest to learn from the best, and the Diablo 3 Secrets guide includes all of the hard-won principles of success in this exciting game assembled over time.
This painstaking process of piecing together expertise in the game has honed this guide into one of the most insightful, powerful, and far-reaching one can find. As Jennifer Scalia, a gamer whose Diablo 3 success took off after learning from Diablo 3 Secrets, declares, "Was a shocking player once … Now always the first on anyone's team and have Diablo 3 Secrets to thank for that!"
Players have a right to high expectations from a guide that claims expert caliber, and the Diablo 3 Secrets guide delivers fully on its promise. Here are a handful of the many features that demonstrate the level of excellence Peng Joon provides:

Full guides for all five Diablo 3 classes – Barbarian, Witch Doctor, Wizard, Monk, and Demon Hunter – with thorough details on the equipment choices, skill builds, and tactics that will optimize power in every part of the game with practical, hands-on data.
Diablo 3 Secrets reveals how to leverage the power leveling, items, and earning with class specific instances.
A power leveling formula proven by actual leveling, amplified with diagrams and maps, plus full descriptions to vastly accelerate your leveling experience. The maps provide a step by step guide to reaching Level 60 in a matter of days without sacrificing life's other facets.
Complete freedom from filler, outdated data, and cheats or hacks – victories are 100% legal, safe, and satisfying.
This isn't the first time in history that someone has turned an early defeat into strong motivation. Peng Joon was "knocked down" by Diablo, but he didn't stay down – he learned from his difficulties, working hard, building himself into a Diablo 3 powerhouse. He speaks with authority because he's learned everything the hard way – with the virtual blood of his characters, countless hours of hard work, rigorous analysis, and trial-and-error experimentation.
Just as a warrior of old used a stirrup to vault into the saddle and take the fight to the enemy more swiftly, so using another's expertise and gathered wisdom gives a powerful boost to build a character's tale of heroism, soar to Level 60 in record time, and achieve the triumphs and glory that players are thirsting for.
Diablo 3 Secrets is a sweeping but incisive compendium of the most forceful, dynamic methods available for conquering Diablo 3 and getting all the fun and success players want – fast. This launch is extremely good news for players of this fiercely rousing game – a weapon as powerful as the Legendary one a top level character wields against the forces of the Burning Hells.
This guide can be purchased and downloaded instantly at Diablo3Secrets.com. Protected by a 60-day money back guarantee, this expert guide is available for a limited time price of $47, which includes fourteen comprehensive modules and free patch and expansion updates.
Peng Joon has years of experience with World of Warcraft, Star Wars, Diablo 2 and Diablo 3, and has always been involved with the top guilds in games. Diablo 3 Secrets is proven to be the best Diablo 3 leveling guide in the game and is definitely the number one guide in the market.