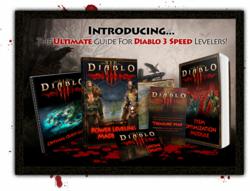 (PRWEB) May 10, 2012
Less than a week is left until Blizzard releases its newest installment of their Diablo franchise. The game comes packed with an overwhelming amount of features and changes compared to the previous version of the game. Diablo 3 offers an improved skill system, 5 new redesigned character classes, a new rune system and many other improvements. Diablo 2 veterans might find themselves unprepared for the new changes. The old Sorceress class has been redesigned and renamed as the Wizard class. It offers now a completely different experience and those that wish to get an early start can now access the Diablo 3 Speed guide. The Diablo 3 Wizard Guide features a significant amount of tools and comprehensive data to minimize research time during the first few weeks of the game.
Diablo 3 Speed Guide, with more information at diablo3speedguide.org, focuses on minimizing gameplay time by showing effective questing and farming methods. It offers a comprehensive view over the character including skills, leveling builds and other Wizard class specific features such as the Arcane Power resource system. Diablo 3 Speed also included a vast monster drop guide to optimize item farming. The overall idea promoted by the guide is to reach level 60 with the character in the shortest amount of time possible to prepare the player for end-game content, including the Inferno difficulty.
The complete package includes:

The leveling guide
Equipment guide
Auction house guide
Class guide
Dungeon guide
Monster library guide
Monster drop guide
Free updates
Diagrams, maps and descriptions
Since the Diablo 3 Wizard character partially resembles the previous caster class, even veteran player might become confused by the changes and will have to start to learn the class from ground up. Diablo 3 Speed cuts down on the entire research time and offers only the necessary information in a step-by-step manner. All the content of the guide is perfectly justified and applicable to the Wizard gameplay machining it a valuable tool for all the players that wish to catch an early start.
More details available at http://diablo3speedguide.org.