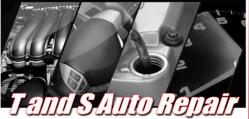 T & S Auto Repair is dedicated to the satisfaction of our customers. We strive to provide safe and reliable automotive repairs for all our customers
San Carlos, CA (PRWEB) December 24, 2011
Automotive computer specialist, T & S Auto Repair, an auto repair and service company serving San Mateo and Redwood City and located at 219 Old Country Road in San Carlos, is offering a $29.99 oil-service special for most cars. The service includes up to five quarts of engine oil, a filter and a safety check of the entire vehicle, including brake inspection, tire condition and rotation, fluid under hood check, belt inspection and tune-up inspection.
The technicians will also check the condition and operation of the following components: drive belts, battery cables and connections, starter operations, intake system, air filter, air-intake tubes and hoses, fuel-system integrity, ignition wires, cooling system, and fan. They will also check the level and condition of the coolant, oil, transmission, power-steering, brake and washer fluids.
"T & S Auto Repair is dedicated to the satisfaction of our customers. We strive to provide safe and reliable automotive repairs for all our customers. Expect only high quality repairs performed by our technicians and personalized service when we work on your vehicle," owner Shun Gong said.
The repair shop also has a new website at http://www.tsautorepair.com, which features more personalized browsing by allowing customers to create their own user account. With the account, customers can make appointments, check vehicle histories, check previous service records and more. The appointment function also allows T & S to schedule appointments more efficiently, helping it avoid overbooking ensuring that customers enjoy better services with less waiting.
For more information on T & S Auto Repair, call 650-226-8694, view the store on the web at http://www.tsautorepair.com or visit 219 Old County Road, San Carlos, CA 94070.
About T & S Auto Repair
T & S Auto Repair is a family owned and operated auto repair shop and automotive computer specialist servicing San Mateo and Redwood City since 2006. With Automotive Service Excellence-certified and factory-trained technicians, T & S Auto Repair provides quality service that meets the Bureau of Automotive Repair's standards. Services include oil change, tune up, check engine light, diagnostic check, smog fault, transmission work and more.
###