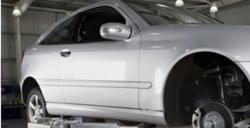 T & S Auto Repair is dedicated to the satisfaction of our customers. We strive to provide safe and reliable automotive repairs for all our customers
San Carlos, CA (PRWEB) October 20, 2011
San Carlos automotive computer specialist T & S Auto Repair offers free brake inspection to all customers throughout the entire winter season. The free inspection includes an ABS warning light check. The company offers the service to prepare their customer's vehicles for driving in winter conditions which involves wet roads and, if they are driving to visit Lake Tahoe, snow.
T & S Auto Repair is a general automotive repair shop serving car owners in San Carlos, Redwood City and the rest of San Mateo County. They specialize in brake repair, electrical and diagnostic checks, and oil service. T & S Auto Repair has experience working on European, Japanese and domestic vehicles.
"T & S Auto Repair is dedicated to the satisfaction of our customers. We strive to provide safe and reliable automotive repairs for all our customers. Expect only high quality repairs performed by our technicians and personalized service when we work on your vehicle," says Shun Gong, owner of T & S Auto Repair.
Although a recent newcomer to the San Mateo automotive repair scene, T & S Auto Repair owner Shun Gong is a certified master technician with nearly a decade of experience working on Audis, BMWs, and many other vehicles. He also has experience as a smog technician and has received factory level training.
For more information on T & S Auto Repair, call (650) 226-8694 or visit them online at http://www.tandsautorepair.com. T & S Auto Repair is located at 219 Old County Road Ste. E, San Carlos, CA 94070.
About T & S Auto Repair
T & S Auto Repair is a family owned and operated auto repair shop servicing San Mateo and Redwood City since 2006. With Automotive Service Excellence (ASE) certified and factory trained technicians,
T & S Auto Repair provides quality service that meets the standards set by the Bureau of Automotive Repair. Services include oil change, tune up, check engine light diagnostic, smog fault, engine mechanical work, transmission work and more.
###