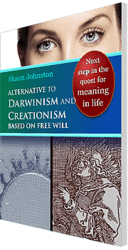 For two centuries science has failed to do justice to what it means we evolved. It's time for the humanities to take over again. All the early pioneers of evolutionary theory (except Lamarck) were humanities oriented when they came up with their theories.
(PRWEB) January 30, 2013
Darwin and Galileo meet in heaven. On learning how Darwin won fame by coming up with evolutionary theory Galileo flies into a jealous rage and vows to win fame for himself by coming up his own theory of evolution. First, though, he has to trick Darwin into acting as his library, so he can catch up on the subject of evolution. Then he has to persuade Darwin to return to Earth as his messenger, to spread word of Galileo's new theory. Will Galileo succeed in making Darwin his messenger? Two great scientists are pitted against one another, each employing the distinctive genius for which he became famous.
"Looking at it through the eyes of someone who supposedly knows nothing about it, it's as if we're encountering evolution for the first time," said Shaun Johnston, the play's author. "What will humans having evolved mean to someone free of all the assumptions we've inherited from Darwin? Seen from this point of view, being evolved raises issues far beyond the usual choices of darwinism and creationism. I'm not a fan of either one; I think it's time to move on from both to new theories that do justice to what it means that we evolved."
After studying biochemistry at University College London Johnston went on to become a science and medical writer in New York City. Since moving to the mid Hudson Valley in 1987 he has written and published five books on the impact of evolutionary theory on our sense of self, including two novels, "Father, In a Far Distant Time I Find You" and "Me and The Genies," the self-help manual "Self Improvement Based on a New Approach to Evolution," and a manifesto questioning the logic behind Darwinism, "Save Our Selves From Science Gone Wrong: Physicalism and Natural Selection."
Johnston is offering a solo performance of his play, dressed as Darwin, to humanities student groups in the mid Hudson Valley and NYC Metropolitan areas. Audience members are given a copy of his fifth title, "Alternative to Darwinism and Creationism," a brief introduction to the thinking behind his play. He also gives permission for the play to be performed by and for student groups. Script for the play and podcasts of his performance are posted on his website http://www.evolvedself.com. On the web at http://www.takeondarwin.com Johnston maintains resources to help others question Darwin and explore alternatives. As the Contrarian Evolutionist he has authored a series of short articles poking fun at darwinism and the modern synthesis. He also posts reviews of books dealing with evolution.
"Reading Darwin's 'On the Origin of Species…' in my mid teens made me a passionate believer in Darwinism," Johnston said. "It was only in my mid fifties, when I began writing fiction exploring the impact on us of evolutionary theory, that I started to question it. Now I'm just as passionately dedicated to pointing out how questionable that impact is, and to encouraging others to come up with other theories."