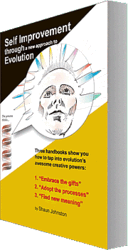 And then, the great adventure, discovering how we evolved, bringing down into our own nature evolution's awesome creative powers. What more profound quest could you ask for?" Galileo, from the dialogue.
ROSENDALE, NY (PRWEB) August 31, 2012
Charles Darwin is in heaven, gazing down at Earth, when Galileo joins him to ask him, what's so interesting down there? So begins a 40-minute dialogue between Darwin and Galileo that explores how and why we evolved.
The central theme of Johnston's dialogue is the impact of evolutionary theory on our sense of self. Galileo's concern with logic and physics acts as a counterpoint to Darwin's concern for the study of nature. Issues discussed include the evolution of consciousness and free will, and how we can find meaning in having evolved.
For this two-person play science writer Shaun Johnston has drawn on the 20-years he's spent researching and writing books about evolution. These include a light romantic comedy, "Me and The Genies," and "Self Improvement Through a New Approach to Evolution," both featured on his website and available at Amazon.
"Dialogues are a traditional medium for exploring new and controversial issues," Johnston points out. "Galileo published a dialogue challenging the prevailing wisdom concerning the movements of planets in the solar system. In my dialogue I challenge the prevailing wisdom concerning evolution." He recommends groups of students interested in biology or philosophy appoint two members of the group to read the parts, followed by discussion.
Groups are asked to contact Johnston for permission to read the play. Johnston is available to visit groups in and around New York City, and the mid Hudson Valley where he lives, to read the play and lead discussion afterwards, at no charge.