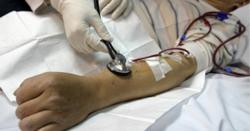 FDA issued a GranuFlo safety warning
Phoenix, AZ (PRWEB) December 03, 2012
Fresenius Medical Care (FMC), a pharmaceutical company based in Germany, under an FDA class I recall due to injuries and losses patients have suffered. Their product, GranuFlo, is used during dialysis treatment for patients who have compromised renal (kidney) function to help cleanse the blood of harmful acids. While a number of products may be used for this purpose, GranuFlo and another Fresenius product, NaturaLyte, are amongst the most common dialysis chemicals in the United States. Unlike other dialysis products, however, GranuFlo can cause dangerously high levels of bicarbonate in the blood, leading to a pH imbalance known as metabolic alkalosis which can precipitate a number of potentially fatal conditions such as stroke, heart arrhythmia, low blood pressure, and heart attacks.
On May 25, 2012, the FDA issued a GranuFlo safety warning, making doctors aware of the potential for fatal dosing errors during dialysis. The risks brought on by GranuFlo are exacerbated by the fact that many kidney patients are prescribed additional bicarbonate, so doctors need to be acutely aware of these risks when administering GranuFlo.
In March of 2012, the FDA issued a Class I recall of GranuFlo and NaturaLyte after the regulatory agency received a leaked internal Fresenius Medical Care memo. This memo, only issued to FMC dialysis physicians and clinics, clearly stated that improper use of these products could lead to heart attacks, strokes, and the potential death of dialysis patients. Tragically, the internal nature of this memo meant that thousands of doctors and dialysis clinics were not aware of the heightened risks associated with products they used every day, essentially putting thousands of lives at risk.
The situation with FMC is unique in that it is often very difficult to prove that a pharmaceutical company was aware of potential risks associated with its products until patients suffer injury or death. In this case, the leaked memo brings awareness to the fact that Fresenius was aware of the dangerous nature of their products yes failed to make this information known to the public.
If a person has suffered serious personal injury or the death of a loved one as a result of dialysis treatment with GranuFlo or NaturaLyte, that person should contact Arentz Law Group, P.C. at 1-800-440-4400. The lawyers at Arentz Law Group, P.C. are highly experienced in dangerous drug litigation, and urge victims of GranuFlo to contact them to learn more about their legal rights.