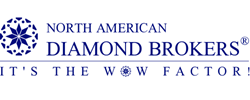 "You can now find loose diamonds in less than 5 seconds. That's blazing fast to me." – says Natalie Bowie NADB's sales manager
San Diego, CA (PRWEB) June 18, 2014
NADB (North American Diamond Brokers) has an eye pleasing, brand new website. The new platform offers a series of enhancements, it is easily navigable, the content is fresh, and the information is expanded.
"You can now find loose diamonds in less than 5 seconds. That's blazing fast to me." – says Natalie Bowie NADB's sales manager. "We added educational videos and educational pages about the diamond shapes and everything diamond related such as clarity, color, carat, cut, fluorescence, ratio, table and so on. We published useful tips and offered advice to those looking to buy or sell a diamond." – She added.
NADB's website is now transparent, extravagant in its simple and effective design just like a gem stone.
"You can easily find appraisers we have partnered with throughout US. Also you may use any of our ring designers." – says David Bowie, founder and CEO of North American Diamond Brokers. "What I like the most about the new website is our diamond search." – Mr. Bowie added.
NADB with the new website launch offers three amazing discounts:
25% off men's wedding bands
20% off designer engagement rings
15% off custom designed rings
Customers who would like to benefit one of the three tempting offers should "like" North American Diamond Brokers on FaceBook or subscribe to their newsletter.
About North American Diamond Brokers (NADB)
Founder and CEO of NADB David Bowie is a graduate gemologist, certified appraiser and jeweler. He started the David Bowie Jewelers in San Diego in 1984 and in 2007 Mr. Bowie launched North American Diamond Brokers where he works together with other members of the Bowie family who are all graduate gemologists, Patricia, his wife, Natalie, his daughter and other graduate gemologists and business professionals. Call 866.994.6262 to contact North American Diamond Brokers (NADB).