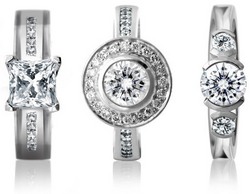 My new range features only the highest quality diamonds to ensure that the natural light refracts and each diamond radiates the ultimate sparkle
Christchurch, Canterbury (PRWEB) December 10, 2008
1791 is changing the way people shop for diamonds online. The new website means people do not have to go it alone when it comes to diamond ring shopping, as a number of online tools including a Ring Building Wizard and Friends and Family section means he can choose the perfect ring for his budget and run it by loved ones to make sure it is the right one.
1791 Diamonds has launched a New Zealand website, now anytime day or night, people can jump on to http://www.1791diamonds.com and search through a catalogue of premium quality rings designed by international jeweller, Alice Herald. 1791 also provides advice by email, telephone or even live online, to help make the perfect choice.
The design your own ring Wizard online, allowing people to create a ring from a number of diamond shapes, such as princess cut or solitaire, a variety of metals, such as rose gold, white gold, platinum and yellow gold, and a beautiful selection of settings. Each diamond available from 1791Diamonds.com over 0.3 carats is sent to an independent gem laboratory to have its quality certified and give the customer peace of mind that they are getting a high class diamond.
"Getting the right ring is very important - it needs to last as long as a relationship, so it's essential customers make a great choice. Once you find the perfect ring then it's time to seek the thoughts of those you love and trust. The Friends and Family section will let you email your selected diamond engagement rings and wedding rings to others to see which ring they think is perfect. It also allows you to send ideas from solitaire diamond rings to your own creations made through the Design-Your-Own wizard through to your fiancée to make sure she gets a ring she will adore." says Ms Herald.
The Designer Engagement Rings have each been lovingly designed by Otago based Jewellery Designer, Alice Herald, and each one is made to order locally in New Zealand. "My new range features only the highest quality diamonds to ensure that the natural light refracts and each diamond radiates the ultimate sparkle," says Ms Herald.
The website allows customers to browse through international renown Alice's latest collections, to find something special, as her work has featured in both Vogue and in London Fashion Week. The rings are then handcrafted in New Zealand with locally sourced gold and exquisite diamonds and delivered to your door.
For more information visit http://www.1791diamonds.com or ring 0800 NZ DIAMOND.
###