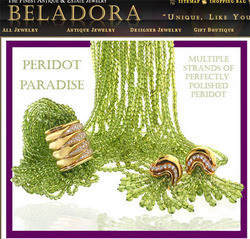 something old, something new, something borrowed, something blue.
Beverly Hills, CA (PRWEB) July 21, 2009
The online vintage and signed jewelry boutique, Beladora, announces a remarkable sales increase in wedding jewelry. Cartier "Love" rings and Tiffany & Co. diamond eternity bands are especially popular among those looking for "something old, something new, something borrowed, something blue." Beladora CEO Nancy Revy attributes this to wedding couples' growing interest in saving on "something new" while gaining the added quality and sentiment that comes with signed pieces.
"In this time of economic uncertainty, our Beladora clients are looking for value when it comes to purchasing wedding jewelry. Gone are the days when couples would visit their local retail jewelry store to choose their wedding rings and pay full retail mark-up," says Revy. "Today, engaged couples are looking for ways to save money. They are going online and buying pre-owned estate wedding jewelry, particularly gold and platinum wedding bands, diamond eternity bands and vintage diamond rings."
Located on Rodeo Drive in Beverly Hills, Beladora.com caters to both local and global clientele. It's the online face of world-renowned estate jeweler Kazanjian & Fogarty and brings premier signed estate jewelry to brides, grooms, and wedding planners, offering the professional expertise of on-staff estate buyers, GIA gemologists and trained jewelry professionals.
Engaged couples are responding to the economy by flocking to Beladora to purchase popular pre-owned wedding jewelry. Revy points to the unique benefits of investing in these pieces:
"With the money saved by purchasing pre-owed Tiffany diamond eternity bands and solitaire rings, Cartier 'Love' and tri-color rolling rings, Edwardian and Art Deco diamond rings and other antique estate wedding rings from Beladora.com, rather than from retail jewelry stores, couples can waylay some of those wedding worries. The economic situation shouldn't intrude on the magic of a marriage ceremony, and Beladora.com offers exquisite bridal jewelry that is equivalent to or better than jewelry bought in a retail store but at a fraction of the price."
In addition to providing signed estate wedding rings and bands to brides and grooms to be, Beladora.com offers antique, vintage and contemporary jewelry from such noted designers as Van Cleef & Arpels, Bvlgari, Chanel, Tiffany & Co., Mauboussin, Dior, Cartier and many others. Tahitian and South Sea pearls are also popular jewelry items for the mothers of the brides and grooms. Jewelry ranges from wedding bands to brooches, pendants, cufflinks, earrings, bracelets, necklaces, tiaras and jewelry gifts for the bridal party.
Interested buyers can visit Beladora.com to shop the selection, updated regularly.
About Beladora:
Kazanjian & Fogarty sells its estate and vintage jewelry finds to clients around the globe through Beladora.com. The firm is a partner to Beverly Hills based estate jeweler and gemstone dealer Kazanjian Brothers, Inc. In-house buyers, gemologists and jewelry professionals bring more than 80 years of combined experience to the e-boutique, focused on client-first service and secure online shopping convenience.
###