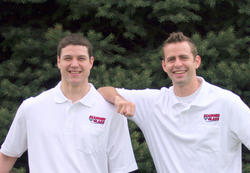 "They go out of their way to make sure that their customers get the service that they need and deserve" - J. Emery
Provo, UT (PRWEB) April 19, 2011
Diamond Glass, the premier provider in windshield and auto glass repair and replacement, announced today that it will be opening its newest Salt Lake City location by giving away over 40 Jimmer Fredette and Jackson Emery autographed basketball jerseys. The recent promotion aims to increase awareness of Diamond Glass' statewide mobile service, lifetime warranty, and the best customer service in the industry.
Emery and Fredette have become local heroes in Utah after leading the BYU men's basketball team to the Sweet 16 in the NCAA basketball tournament. Along with their tournament success many long-standing BYU records were broken by this tremendous duo. Emery broke the all-time steals record, previously held by BYU legend Danny Ainge. Fredette broke several records including BYU's all-time scoring record. Because of their great relationship with Diamond Glass, both Jackson and Jimmer have been more than happy to provide over 40 signed jerseys for this great event.
"Diamond Glass has great customer service," Emery said. "They go out of their way to make sure that their customers get the service that they need and deserve. I'm a huge fan of the company and wouldn't go anywhere else."
The process to win one of the jerseys is simple; Diamond Glass asks that everyone who desires to be entered into the drawings "like" their Diamond Glass UT Facebook Page (http://www.facebook.com/diamondglassut). After "liking" the page, simply post on their wall that you want to win the jersey and you'll be automatically entered into the drawing. Winners will be announced on their Facebook Page.
About Diamond Glass:
Diamond Glass' new location is at 3171 South West Temple in Salt Lake City, UT. The company has been providing windshield repair in Salt Lake City since 1979. For over 30 years they have been one of the leading providers of auto glass repair in Salt Lake City. Their website helps customers to quickly and easily schedule appointments for windshield replacements, not only in Salt Lake City, but most other cities statewide.
Questions can be answered by looking at Diamond Glass' website (http://www.diamondglass.com) or by calling either 800-853-4933 (Southern Utah Stores) or 800-950-5512 (Northern Utah Stores).
###