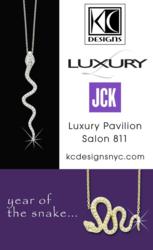 The JCK Show is a great opportunity for KC Designs to meet and make plans with our authorized retailers. We recognize the importance of online marketing and web-based retail and look forward to providing support in this area to our network of jewelers.
New York, NY (PRWEB) May 28, 2013
KC Designs has confirmed that it will exhibit its distinctive diamond jewelry collection at JCK Las Vegas, May 31st to June 3rd. It will be part of the LUXURY and Elite enclave, which joins the finest jewelry retailers, designers and manufacturers with a first class setting. It is widely recognized as the jewelry industry's premier business and networking experience.
Held annually, JCK Las Vegas is the country's leading jewelry event. It brings together awe-inspiring designs from an elite selection of domestic and international jewelry professionals. The glittering exhibition showcases the most sought-after pieces, cutting edge trends and the finest finished jewelry, gems and timepieces.
Known for using high quality diamonds in all of their jewelry designs, while still offering very affordable pricing to consumers, KC Designs will use its presence at JCK Las Vegas to connect with its extensive network of authorized retailers. The KC Designs collection is available in more than 250 retail locations throughout the United States, Canada, South America, Japan and several European countries.
During its sojourn in Vegas, it will provide marketing support and assistance to KC Designs authorized retailers. One of the brand's upcoming priorities is to help stores stocking KC Designs diamond jewelry to maximize their reach via the internet. Each attending store representative will receive a disk prepared for the show that will help KC Designs jewelers to showcase popular items such as the brand's iconic initial necklaces and charms on their own websites in order to sell online.
In advance of its presence at JCK Las Vegas, KC Designs has made a web designer available to all jewelers. The newly appointed technical team will provide assistance to stores and help them to add KC Designs links and products to their websites. This means time at the show can be spent planning future promotions and tapping into the KC Designs marketing expertise. A number of education sessions organized by the exhibition itself will also support these aims, with a series of seminars for retail jewelers seeking for new ways to sell and positively impact the bottom line.
Joe Carullo, Sales Director said, "The JCK Show represents quite a special appearance for us and is a wonderful opportunity for KC Designs to meet and make plans with our authorized retailers. As a brand we recognize the importance of online marketing and web-based retail and look forward to providing support in this area to our network of jewelers in an effort to boost their business."
KC Designs will be located in Salon 811 of the Luxury Pavillion, in the Four Seasons/Mandalay Bay/THEhotel.
To find out more visit http://www.kcdesignsnyc.com
About KC Designs
KC Designs has been at the forefront of diamond fashion jewelry for over 30 years. They have masterfully created jewelry that compliments every style of woman. Throughout the years, KC Designs has garnered the acclaim of celebrities and fashion experts alike. Their distinctive diamond pieces have been showcased in numerous feature films, major television network shows, fashion runways, and dozens of fashion publications including the uber-popular Sports Illustrated Swimsuit Edition...5 years running.
Founder Lenny Krol combines his passion for design and creative vision to continuously innovate trend and fashion in his diamond jewelry collections. His attention to detail, along with his trained manufacturing skills helps create the ability to produce the exquisite KC Designs Collections we have come to know and love.
Business partner and friend of 50 years, Joe Carullo is a natural "people person" which enables him to build strong relationships with the retail jeweler. His ability to connect the fashion to the retailer brings the KC Designs Collections to life and ultimately to the everyday consumer. Joe's dedication to the jewelry industry is self-evident as he is a co-founder of the "Select by Centurion Jewelry Show" and has for many years, been extremely involved with the American Gem Society, Luxury By JCK and the JA International Jewelry Show.
Along with the best customer service staff in the jewelry industry, Lenny Krol and Joe Carullo strive to redefine the image of diamond jewelry making it fun, approachable and accessible for women of all ages.