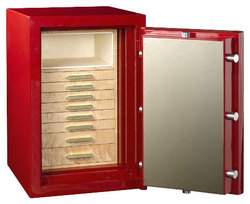 Our safes, just like G3's jewelry, are completely customizable and can be tailored to the exact specifications of the customer.
New York City, NY (PRWEB) February 19, 2009
Beginning March 2009, New York City based G3 Jewelry Inc, a designer of customizable diamond jewelry and Swiss-Made diamond watches, will collaborate with New York City based Empire Safe Company on a nationwide promotion and ad campaign. The company will offer Empire's Professional Series safe, a 550 pound commercial quality burglary protection unit with armor plating, free of charge to its high net worth clientele who make a minimum purchase of $50K. The safe currently retails for $10,800 and includes a combination of burglary security features, substantial weight characteristics, fire protection and a completely customizable interior and exterior. The promotion includes a personalized consultation, freight, delivery, setup of the safe, and comes with a lifetime replacement warranty.
"Even before hearing about the home burglaries of Paris Hilton, Floyd Mayweather, Queen Latifah and other celebrities, we were trying to think of a way to put this promotion together," explains Quincy Brown, CEO of G3 Jewelry Inc. "But we needed to find a company that could manufacture the right product for our online jewelry store customers and celebrity clients. That's what we found in Empire Safe."
Empire Safe has been serving the world's finest jewelers, watchmakers, retailers, distributors, manufacturers, city, state and government agencies as well as residences since 1904. Richard Krasilovsky, Empire Safe's President and CEO, is a third generation safe expert, considered to be one of the foremost authorities in the country and a leading designer of high security safes and vault rooms, including Empire's unique high security residential collection. "We met with Quincy Brown at the Jewelers of America exhibition in New York and upon seeing our Professional Series safes on display, he immediately began to pitch us on collaborating on this unique promotion," says Krasilovsky. "Our safes, just like G3's jewelry, are completely customizable and can be tailored to the exact specifications of the customer."
The ad campaign will feature Christa Nicole Wells, a rising young Hollywood actress and model hand-picked by Gary Russell, Director of G3 Jewelry's Entertainment Division. "We love working with future stars in the entertainment industry and Christa will be the new face of our "Glamour" line of womens diamond jewelry," says Russell. Christa Nicole Wells is currently working on several feature films, including a starring role in the upcoming film "Grave Goods", written and directed by Warren Lewis, and "Mark of Love" which is set to hit theatres and DVD late 2009. Specifics of the ad campaign were not available at the time, but preliminary plans are to include the ad in The Robb Report, Harper's BAZAAR, Esquire and other luxury magazines.
G3 Jewelry's current product lines include the "Glamour" line of customizable diamond jewelry for women, which is available exclusively on their online jewelry store. Popular items from the line are their peace sign diamond jewelry set, diamond star jewelry and cluster-set diamond rings jewelry. The "Glitz" line of customizable diamond jewelry for men is available to view via a downloadable PDF catalog.
For more information on G3 Jewelry please visit http://www.g3jewelry.com
For more information on Empire Safe please visit http://www.empiresafe.com.
###