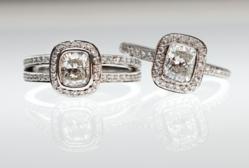 Setting a diamond within a 'halo' of pave set diamonds all around it makes that diamond look quite a bit bigger
San Francisco, CA (PRWEB) February 23, 2012
Union Street Goldsmith a San Francisco custom jewelry store announces the availability of a new collection of diamond jewelry that features rings and pendants in a halo design. The halo design sets small diamonds in a circle around a large center diamond.
"Setting a diamond within a 'halo' of pave set diamonds all around it makes that diamond look quite a bit bigger. The overall appearance gives a beautiful, timeless look," Summer Anderson, graduate gemologist at Union Street Goldsmith, said.
The collection of diamond halo rings, pendants and earrings, as well as pave diamond jewelry, includes round brilliant cut, princess cut and cushion cut diamonds. Union Street Goldsmith also creates in-house halo settings using either diamonds or colored stones. The pieces are set in platinum, white gold and yellow gold. Union Street Goldsmith also makes a halo earring jacket for diamond studs in any shape or size.
Union Street Goldsmith carries an extensive selection of jewelry for both men and women, as well as designs from designers like Atilier Marisa, Dilamani, Garavelli, Gellner and many more.
For more information about the halo diamond collection or any of Union Street Goldsmith's products or services, call 415-658-9315, view Union Street Goldsmith's website at http://www.unionstreetgoldsmith.com or visit their store located at 1909 Union St. in San Francisco.
About Union Street Goldsmith
Union Street Goldsmith is a San Francisco custom jewelry store that has specialized in engagement rings, diamond rings, wedding bands, 22-karat gold, platinum, pearl necklaces and jewelry repair for more than 35 years. Glenda Queen and Terry Brumbaugh founded Union Street Goldsmith in the Marina District of San Francisco in 1976. They have been jewelers for so long that they are now creating engagement rings and wedding bands for the children of couples whose rings they made decades ago.
###