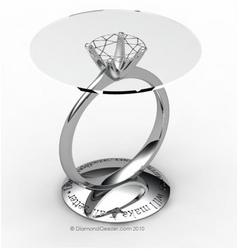 DiamondGeezer.com has designed and made a centre piece for the most expensive garden design to be created in the 97 year history of the Chelsea Flower Show
(PRWEB) May 12, 2010
The £20 million 'Ace of Diamonds' garden to be exhibited at this month's Chelsea flower show is attracting global interest in the gardening and diamond industries. Leading U.K. online fine diamond jeweller DiamondGeezer.com has designed and made a centre piece for the most expensive garden design to be created in the 97 year history of the Chelsea Flower Show which starts on May the 25th.
In the centre of the garden, designed and created by celebrity gardener David Domoney stands a hand-made 3 foot high replica of DiamondGeezer.com's 'Signature' diamond solitaire ring in platinum. The over-sized version of this popular DiamondGeezer.com platinum diamond ring works perfectly as an elegant court-yard table at the centre of this remarkable diamond garden and quotes a famous line from the movie Breakfast at Tiffany's.
The 'Ace of Diamonds' garden celebrates the links between plants and precious stones and will be littered with fine jewels supplied by Bond Street jeweller Leviev. The garden will be worth more than all Chelsea's other collections put together when the Royal Horticulture Society's annual showpiece begins on May 25.
###