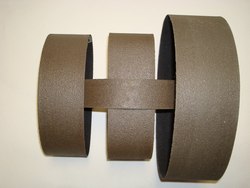 Windsor, VT (PRWEB) June 10, 2010
Eastwind Diamond Abrasives, a provider of high performance flexible resin bond diamond abrasives has recently announced the completion and implementation of new technology in the form of their "Belt Pro" line of abrasive belts. In releasing the new product, Eastwind Diamond Abrasive will provide a solution for more effective cutting, grinding, sharpening, and finishing than previously available anywhere.
Belt Pro diamond belts feature a high cut rate for aggressive material removal required by lapidary, carbide grinding, glass grinding, ceramics and other difficult applications. However, company president, Doug Klein, says Eastwind Diamond Abrasives has vastly improved on the basics. "The belt pro line has been developed and implemented as a unique new resin bond diamond belt."
The new technology released by the Vermont based supplier of diamond abrasives is available in sizes of 1.5 x 6, 2.5 x 6 and 3 x 8 inches to easily accommodate rubber drums used in sanding and polishing processes. Developed and engineered for greater efficiency and life, the Belt Pro technology from Eastwind Diamond Abrasives is manufactured with a heavier backing with more diamonds allowing for more effective abrasive and sanding and polishing properties.
Regarding the release of their new product and the development of the technology behind it, Klein explains, "We wanted to develop and provide a diamond sanding belt that was more effective and longer lasting. Now, those needing high quality and cost efficient sanding, shaping, and smoothing for just about any non-metallic material can take advantage of our Belt Pro diamond abrasive belts." Klein continues, "We've supplied diamond abrasive belts for just about every application -from grinding and cutting for stones and precious gems to shaping and finishing of satellites and jet engines. So for anyone that needs high performance grinding, cutting, shaping, and finishing - we like to think the Belt Pro line can provide a higher level of value."
About Eastwind Diamond Abrasives
Eastwind Diamond Abrasives is a subsidiary of Eastwind Lapidary Inc., and was established in one of the original birthplaces of the American industrial revolution. Considering their historical birthplace, the company admits a natural inclination and breeding towards innovation and high quality manufacturing.
Regarding the announcement of the company's development and production of a new resin bond diamond belt, company president Doug Klein says, "Around here, and especially at Eastwind, it comes with the territory."
Eastwind Diamond Abrasives can be reached at 802-674-5427. Check us out on the the web at http://www.eastwindabrasives.com.
# # #