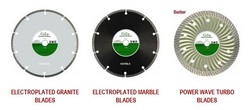 variable speed wet polisher, a complete set of 4
City of Industry, CA (Vocus) August 21, 2010
Gila Tools, Inc., a global leader in professional quality diamond blades, diamond drilling core bits, diamond polishing pads, and other diamond tools, introduces the 5" Wet Polisher Kit for a low price of $199. This is a huge 20% discount from its original price of $250.00. The 5" Wet Polisher Kit includes the Gila 5" variable speed wet polisher, a complete set of 4" stone diamond polishing pads, and a flexible rubber backer pad. Ideal for polishing granite and stone surfaces, the Gila 5" granite polishing kit is a low RPM, variable speed (500-4500 RPM) water feed angle grinder. The 5" polisher can also be used on dry stone diamond polishing pads, stone diamond core bit, and diamond cup wheels.
Also featured this month are a wide range of diamond blades at discounted prices. Wide turbo rim diamond blades are now on sale for a low price of $10.80 - $76.50. Available in 4" to 14", these wide turbo rim diamond blades can be used on concrete, brick, block, and masonry. Speedy J-slot tile diamond blades, appropriate for all types of tiles like ceramic, porcelain, and granite, are discounted to a price of $16.19 - $71.09. Single row cup wheels and laser tuck point blades are also available for $29.70 - $77.39, available in 4" to 7" sizes.
Still ongoing is Gila Tools' free Husqvarna saw promotion. Customers who purchase 10 pieces of 14" SPT diamond blades or 5 pieces of Gila 14" laser welded GP concrete diamonds blades + 5 pieces of Gila 14" laser welded Asphalt/Green concrete diamond blades can receive a free Husqvarna K750 Power Cutter Gas Cut Off Saw
Offering the most professional tools such as diamond blades for the diamond cutting industry, Gila Tools, Inc. also provides same-day free shipping for all orders over $50. Furthermore, Gila Tools assures clients of a 100% satisfaction guaranteed with a money-back guarantee. Sign up with the company's newsletter or visit Gila Tools' official blog for the latest updates in diamond blades and the diamond cutting industry.
About Gila Tools, Inc.
Gila Tools, Inc. is a factory direct supplier of professional quality diamond tools. Gila Tools' years of experiences, extensive research, product testing and comparing, and latest technologies bring customers the best diamond cutting solutions in the construction industry. The company continues its time honored tradition in supplying the industry with the best diamond tools available at the most reasonable pricing. Press release produced by Cybertegic.com- an Internet marketing services agency that specializes in search engine optimized press release marketing (SEO marketing).
###