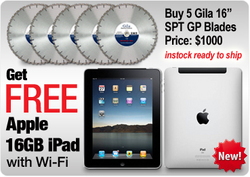 SPT GP Blades and receive a revolutionary 16GB Apple iPad __title__ diamond blades] with Wi-Fi capability. Appropriate for cutting through cured concrete, hard brick, block, pavers, roof tile, natural stone, and masonry materials, Gila Tools's 16
City of Industry, CA (Vocus) September 30, 2010
Gila Tools, Inc., a leader in professional quality diamond tools, is featuring special October promotions with the purchase of select diamond saw blades. As an authorized supplier of diamond blades, Gila Tools understands that the manufacturing of the best in diamond tool products requires the best technology. This is why, for a limited time, buyers can purchase 5 Gila 16" SPT GP Blades and receive a revolutionary 16GB Apple iPad with Wi-Fi capability. Appropriate for cutting through cured concrete, hard brick, block, pavers, roof tile, natural stone, and masonry materials, Gila Tools's 16" SPT diamond blades are engineered for the toughest of jobs.
Still ongoing is the free Husqvarna TS355 B masonry saw promotion. Buy five pieces of Gila 14" laser welded U-Gullet diamond blades and five pieces of Gila 14" laser welded Turbo Segmented diamond blades, and get a brand new Husqvarna TS355 B masonry saw. Customers who buy 10 pieces of either diamond blade can receive a free Husqvarna TS355 B masonry saw. For just 10 diamond blades, at an affordable price of $1,750, buyers will walk away with a Husqvarna TS355B originally priced at $900. The brand new Husqvarna Brickie TS335B Masonry Saw features a spring-assisted cutting head that makes plunge cutting and step cutting easier. In addition the saw's trigger switch can be locked in the "on" position for small continuous cuts. This promotion is a real can't miss opportunity.
At Gila Tools, every order is delivered to meet customer satisfaction. Gila Tools values its customers and strives to provide the best quality tools at outstanding prices. All tools are fully backed with a money-back guarantee. Visit Gilatools.com and take advantage of the great promotional offers. Order today and take advantage of free same-day shipping on orders over $50.
Gila Tools supplies only the best in diamond tool products. Gila tool products are engineered for strength and reliability. Their precision blades are some of the most top-grade products sold on the market. Made to provide the smoothest and most precise cut throughout, Gila Tools' diamond blades meet any professional's demand for exceptional quality. Gila Tools works hard to provide their customers with nothing less than 100 percent satisfaction. Sign up with the company's newsletter or visit Gila Tools' official blog for the latest updates in diamond blades and the diamond cutting industry.
About Gila Tools, Inc.
Gila Tools, Inc. is a factory direct supplier of professional quality diamond tools. Gila Tools' years of experiences, extensive research, product testing and comparing, and latest technologies bring customers the best diamond cutting solutions in the construction industry. The company continues its time honored tradition in supplying the industry with the best diamond tools available at the most reasonable pricing. Press release produced by Cybertegic.com- an Internet marketing services agency that specializes in search engine optimized press release marketing (SEO marketing).
###