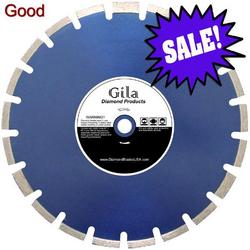 City of Industry, CA (Vocus) October 18, 2010 –
Online provider of high quality diamond tools GilaTools.com gives huge savings to clients who purchase selected diamond blades from Gila Tools, Inc. Premium asphalt diamond blades which are used to cut asphalt and green concrete are now available for only $101.69 - $354.59 for sizes 12'' - 14''. Premium asphalt blades originally cost $112.99 - $393.99 and the almost $40 savings can certainly help companies in these hard times.
Tough-cut master diamond blades were originally priced from $169.99 - $533.99. After a huge discount, tough-cut master blades can now be purchased for the low price of $152.99 - $480.59 for 12'' - 14'' sized diamond blades. That's more than $50 in savings! With the ability the tough-cut master diamond blades have to cut through cured concrete, hard brick/block, masonry and natural stone, a $50 savings is definitely an irresistible deal. Meanwhile, Twister I Cup Wheels (Aggressive) are now on sale for only $36.45 - 151.65 for 4'' - 10'' sizes. Twister I Cup wheels are segmented cup wheels with extended wheel life and very fast cutting action on concrete and other masonry materials without the swirl marks.
Aside from diamond blades, GilaTools.com offers top-of-the-line diamond tools. Starting at a low price of $37.35, customers can now purchase Wet Concrete Core Bits that boast specially formulated segments that can cut through cured and reinforced concrete. Additionally, Wet Concrete Core Bits can be used on core drilling machines and hand-held drills. Plus, receive a free Apple iPad with the purchase of five Gila 16'' SPT GP Diamond Blades. Gila 16'' SPT Diamond Saw Diamond Blades are laser welded and can be used both for dry and wet cutting. This type of diamond blade can be applied on cured concrete, hard brick/block, pavers, roof tile, natural stone, and other masonry materials.
Because a major aim of Gila Tools, Inc. is to help construction companies save on diamond tools, the one-stop-shop of premium diamond blades offers same day free shipping for all orders $50 and above. Customers are also assured 100% satisfaction guaranteed. Clients may return their purchases within 30 days in the case of unsatisfactory quality in their diamond blades. For more updates on Gila Tools, Inc.'s promotions, sign up with the company's newsletter or visit the official blog.
About Gila Tools, Inc.
Gila Tools, Inc. is a factory direct supplier of professional quality diamond tools. Gila Tools' years of experiences, extensive research, product testing and comparing, and latest technologies bring customers the best diamond cutting solutions in the construction industry. The company continues its time honored tradition in supplying the industry with the best diamond tools available at the most reasonable pricing. Press release produced by Cybertegic, Inc. - an Internet marketing services agency that specializes in search engine optimized press release marketing (SEO marketing).
# # #