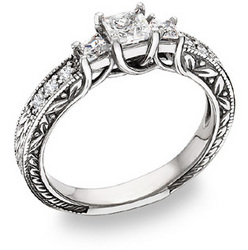 Los Angeles, CA (Vocus) October 26, 2010
As the holidays approach, men across the country are getting ready to surprise their significant other with a beautiful diamond engagement ring. Compared to the rest of the year, the holiday months represent a disproportionately high percentage of engagements. With family get-togethers, holiday vacations and seasonal cheer in the air, it's the perfect time of year to pop the question.
But due to the still-sluggish pace of the economy, it is more important than ever for guys to find an engagement ring at the right price. So what's a hard-working guy in love to do? Enter Apples of Gold, the groom-to-be's affordable answer to pricey big-name jewelry stores. Apples of Gold, a trusted online jeweler for over a decade, specializes in high quality diamond engagement rings at unbelievable price points. All of their engagement rings are crafted using hand picked, well-graded diamonds and solid precious metal settings in 14K, 18K and platinum.
What's more, many of the diamond rings are customizable – the future groom can change up the Karats or carats to create the ideal engagement ring at the perfect price. Their diamond engagement rings range in price from around $200 all the way up to almost $5,000, with custom creation options as well. Men who are having the hard time finding the right style ring within their budget can also turn to Apples of Gold for their fix. With over a hundred different style engagement rings that range from clean and modern to vexingly vintage, the only problem is choosing a favorite.
About Apples of Gold
Apples of Gold Jewelry, http://applesofgold.com, makes the resolute promise of providing the same, high-end jewelry as any successful jewelry retailer, but at a dramatically lower price. With over 25 years in the jewelry industry, we are passionate about providing jewelry lovers with gorgeous, high quality pieces that will last a lifetime.
###