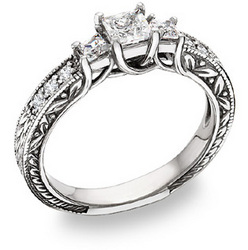 Los Angeles, Calif. (Vocus) October 12, 2010
In lieu of splashing out on elaborate weddings, more and more couples are choosing affordable options that honor their budget. Likewise, the old 'three months salary' engagement ring adage is giving way to a focus on finding beautiful, high quality diamond engagement rings at an affordable price. In response to this demand, online jeweler Apples of Gold is introducing stylish new engagement ring styles that are ideal for couples who want quality on a budget. With rings spanning from a half carat to just over a carat in diamond weight, the rings range from $1,500 to $5,000, offering the perfect mix of bling and affordability.
Unlike other jewelers who offer a limited selection of budget-conscious options, Apples of Gold has over a hundred engagement rings that are within this price point. Their selection encompasses a wide range of styles; everything from a simple, traditional solitaire diamond and white gold ring to vintage Art Deco inspired engagement ring styles are available. Some of the most popular budget-friendly styles include a recycled gold .75 carat engagement ring with pave diamonds along the side of the band and a nearly one carat total weight ring that features two thin swirling pave diamond bands that encircle the center diamond, creating the illusion of a much larger center stone.
Many of the diamond engagement rings also come with customization options for couples who want to choose their diamond size and metal type. Though white gold and platinum have reigned supreme in the jewelry world for years, yellow gold and rose gold are also making a comeback in popularity. For Apples of Gold customers, the ability to pick their favorite metal in their favorite diamond engagement ring style is as simple as a click of the mouse – no long wait times, and no astronomical price increases for custom jewelry.
About Apples of Gold
Apples of Gold Jewelry makes the resolute promise of providing the same, high-end jewelry as any successful jewelry retailer, but at a dramatically lower price. With over 25 years in the jewelry industry, we are passionate about providing jewelry lovers with gorgeous, high quality pieces that will last a lifetime.
# # #