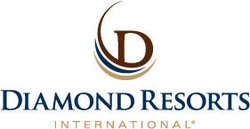 las Vegas, NV (Vocus) October 5, 2010
Diamond Resorts International® (Diamond), a global leader in the hospitality and vacation ownership industries, continues its global commitment toward sustainability by limiting traditional forms management through online handbooks, application processes and training modules and webinars.
According to Stephen J. Cloobeck, Chairman and Chief Executive Officer, Diamond Resorts International®, "The global reach of our Human Resources team has to be in real time. We must be available to our team members throughout different time zones just as we are to our owners, members and guests and we must be able to respond quickly with our service commitment. Advances in technology afford us the opportunity to reach our current and prospective team members just as easily and seamlessly as our guests without the unnecessary use of papers and inks. As we improve our commitment to service excellence, we are also mindful of our sustainability and the health of our communities."
Diamond Resorts International®, working closely with its suppliers and business leaders since the inception of the brand three years ago, continues to reduce paper and ink costs, uses recyclables and improves energy efficiencies. Every day the organization reaffirms its commitment to sustainability and, with its major global footprint and therefore environmental impact, Diamond Resorts International® plans to do more as a company to promote measurable improvement and to build eco-awareness and sustainability at managed and operated sites worldwide.
Annually, nearly 1.4 million owners, members and guests enjoy the simplicity, choice and comfort Diamond Resorts International® offers through our branded hospitality experience.
Diamond Resorts International®, with global headquarters in Las Vegas, Nev., is one of the largest vacation ownership companies in the world with more than 160 branded and affiliated resorts and over 24,000 guest beds in 26 countries with destinations throughout the continental United States and Hawaii, Canada, Mexico, the Caribbean, Europe, Asia, Australia and Africa. Offering simplicity, choice and comfort to more than 400,000 owners and members through the branded hospitality service of more than 5,500 team members worldwide, Diamond Resorts International® is dedicated to providing its guests with effortless and relaxing vacation experiences every time, for a lifetime. To learn more, visit DiamondResorts.com.
###