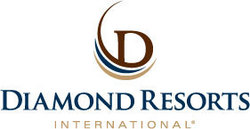 Our Regeneration™ suiting is the premium environmental option available, because it is made from 100 percent recycled fabric
Las Vegas, NV (Vocus) October 20, 2010 –
Diamond Resorts International® (Diamond), a global leader in the hospitality and vacation ownership industries, continues its global commitment toward brand strength and sustainability with its continued Cintas apparel partnership and the introduction of the RegenerationTM front desk and resort manager suiting program which is made with eco-friendly fabric.
Made with ECOGIR® recycled fabric, Cintas, partnering with Bagir, made these garments with 100 percent recycled fabric to help divert landfill waste, save energy and reduce CO2 emissions. Each suit is made from approximately 25 recycled 2-liter plastic bottles and reduces water usage by as much as 90 percent. Plus, they are home launderable to save even more energy and resources, saving employees as much as $1,000 annually.
Diamond Resorts International® continues to work closely with its suppliers and business partners to find sustainable solutions, promote measurable improvement and help build eco-awareness at managed and operated sites worldwide. On the recommitment efforts of the full uniform apparel program with Cintas, Stephen J. Cloobeck, Chairman and Chief Executive Officer, Diamond Resorts International®, said, "Globally, we strive for full brand standardization in our uniform apparel program and when Cintas introduced their Regeneration line, we were excited to learn of their product improvements and sustainable actions as well as learn more about Cintas' overall social responsibility and their commitment to supplier diversity, social compliance, corporate sustainability and product safety. The Diamond community prides itself on building lasting trust-based relationships with team members and our owners, members and guests worldwide, and we look forward to growing our ongoing commitment with Cintas."
"Our Regeneration™ suiting is the premium environmental option available, because it is made from 100 percent recycled fabric," said Bill Goetz, President and Chief Operating Officer of Global Accounts, Cintas. "Using this program clearly indicates the commitment Diamond Resorts International® has to improving the sustainability of their operations. As a company, we do everything we can to reduce the environmental impact of our business, so we are pleased to partner with a client who shares the same values."
Diamond Resorts International®, with global headquarters in Las Vegas, Nev., is one of the largest vacation ownership companies in the world with more than 177 branded and affiliated resorts and over 24,000 guest beds in 26 countries with destinations throughout the continental United States and Hawaii, Canada, Mexico, the Caribbean, Europe, Asia, Australia and Africa. Offering simplicity, choice and comfort to more than 385,000 owners and members through the branded hospitality service of more than 5,500 team members worldwide, Diamond Resorts International® is dedicated to providing its guests with effortless and relaxing vacation experiences every time, for a lifetime.
Annually, nearly 1.4 million owners, members and guests enjoy the simplicity, choice and comfort Diamond Resorts International® offers through our branded hospitality experience.
About Diamond Resorts Corporation
Diamond Resorts Corporation and its subsidiaries develop, own, operate and manage vacation ownership resorts and, through resort and partner affiliation agreements, provide owners and members with access to 69 managed resorts and 108 affiliated resorts through THE Club® at Diamond Resorts International®.
To learn more, visit DiamondResorts.com.
About Cintas:
Headquartered in Cincinnati, Cintas Corporation provides highly specialized services to businesses of all types primarily throughout North America. Cintas designs, manufactures and implements corporate identity uniform programs, and provides entrance mats, restroom supplies, promotional products, first aid, safety, fire protection products and services and document management services for approximately 800,000 businesses. Cintas is a publicly held company traded over the Nasdaq Global Select Market under the symbol CTAS, and is a Nasdaq-100 company and component of the Standard & Poor's 500 Index.
Regeneration™ is a trademark of Cintas Corporation.
ECOGIR® is a registered trademark of Bagir Group.
#-#-#