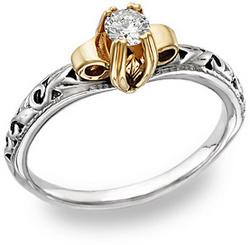 Los Angeles, CA (Vocus) June 22, 2010
When it comes to finding the perfect present for a woman, it's hard to go wrong with a diamond ring. But knowing what to buy is only half the battle – the harder part of the equation is finding a beautiful diamond ring at an affordable price. Local jewelers offer the peace of mind of buying the ring in person, but that often comes at a much higher price. On the other hand, many of the online diamond and jewelry stores promise deals without the personal customer service.
One Los Angeles-based internet jeweler, Apples of Gold, is offering the perfect balance for customers looking for a great diamond ring at an affordable price. By keeping a large online presence that has been serving customers for over a decade, Apples of Gold provides the assurance of quality and customer service paired with completely affordable pricing. Unlike other online jewelers, Apples of Gold offers the same customization options, service and personal touch that is usually only seen in a brick and mortar jeweler. To keep the price of their diamond rings lower than local jewelers and other online stores, Apples of Gold works directly with wholesalers and manufacturers to bring their customers jewelry pieces at 50% below typical retail pricing.
When customers can save 50% on a beautiful diamond ring, that savings makes the difference between being able to buy that perfect gift for a loved one instead of simply settling. Whether a man is looking for the perfect diamond engagement ring for his fiancé, a woman is treating herself to a diamond right hand ring, or parents are giving their daughter a special graduation gift, these pieces of jewelry mark the important moments in life that are worth celebrating. When a woman looks back in life through the lens of her jewelry box, each diamond ring, earring and necklace should have a special meaning and memory. At Apples of Gold, enabling customers to buy these special pieces is the best part of the job.
About Apples of Gold
Apples of Gold Jewelry makes the resolute promise of providing the same, high-end jewelry as any successful jewelry retailer, but at a dramatically lower price. With over 25 years in the jewelry industry, we are passionate about providing jewelry lovers with gorgeous, high quality pieces that will last a lifetime.
# # #