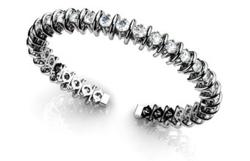 San Diego, CA (PRWEB) November 18, 2011
Anjolee announces the top five bangle bracelet gifts this holiday season. Based on their new and best selling designs, these holiday gift ideas run the gamut from their newest flexible diamond bangle designs to their classic oval and round shaped styles. Each of these new bangle bracelets were selected to showcase their individual design while maximizing unique opportunities to give these as gifts this holiday season.
1) 'Two Prong Flexible Diamond Bangle' is a gift option for fashion forward attire. The bracelet features a secure two prong setting which shows the brilliance of the diamonds well. Wire running throughout the links keeps it secure but also allows for some flexibility, making it an easy accessory to pair with a LBD, or nice fitted suit. Style number BB333
2) 'Classic Prong Set Diamond Bangle' is an oval shaped classic piece that is perfect for any woman looking to accessorize with classic and tailored pieces. Each of the round diamonds are set along the entire bangle as opposed to others that has stones set along the top portion only. Style number BB15
3) 'Legendary Curved Diamond Bangle' features three diamonds and a shiny bangle. This option is a nice gift for anyone looking to celebrate the special occasions that occur in three's (third anniversary, having third child, turning 30). The shiny gold or platinum bangle has a slight curve to it's shape, so it not your average bracelet. Plus, it is more affordable as it features three prong set diamonds. Style BB18
4) 'Stylish Seven Stone Diamond Bangle' this design has a seven stone section in the middle of the bangle. The center diamond is larger and the side diamonds graduate in size. This is an amazing gift for anyone celebrating a 7th anniversary or as a gift for someone stylish who likes to combine sparkly, shine and classic details. Style BB18-A
5) 'Single Shiny Diamond Bangle' has a solitaire diamond directly on the top center of the bangle. Opening from a hinge on the side, this oval shaped bangle is the perfect gift for someone younger who is looking for a little bit of sparkle without going overboard. It's simple design makes it a good contender for any traditional jewelry fans. There are three sizes to select form including a half carat, three quarters of a carat and a full carat of prong set dazzle. Style BB11
All of these diamond bangle suggestions are customizable by metal type, diamond quality and size. Creating a personalized gift of jewelry is simple on Anjolee's website.
###